Yokohama Adds Sponsorship of NFL's Colts
Wednesday, August 28, 2013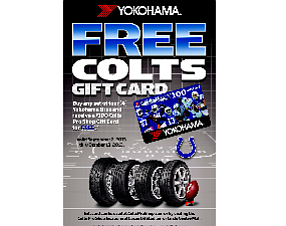 Orange County — Fullerton-based Yokohama Tire Corp. will add the Indianapolis Colts to its roster of sponsored teams for the National Football League's 2013 season, along with the New England Patriots and Chicago Bears.
"Each is a strong partnership that will increase awareness of Yokohama in their respective markets and help drive more foot traffic into the showrooms of our local dealers," said Andrew Briggs, Yokohama's director of marketing and product planning.
Yokohama will run advertising on the teams' television platforms, such as the Chicago Bears Network. The Colts' deal will include social media, as well as an interactive booth in the Fan Zone area during the team's home games.
Yokohama's 2013 sports sponsorship roster also includes Major League Baseball's Cincinnati Reds, the Los Angeles Angels of Anaheim and the New York Yankees.
Yokohama Tire Corporation is the North American manufacturing and marketing subsidiary of Tokyo, Japan-based The Yokohama Rubber Co., Ltd, which is among the largest tire companies globally, with about $5.71 billion in annual sales last year. The North American segment made up about 20% of the total, with $1.13 billion.