Great Park Math; Doti's Dream Team; West Meets Oz
Saturday, August 24, 2013
Share this article: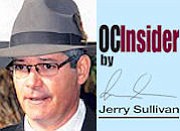 A recent marketing package intended to sell retailers on setting up shop at Irvine Company centers in the Spectrum pointed to the possibility of a new, massive office campus there—and our Mark Mueller has more in that vein on page 1. The same marketing package talked up the likelihood of 9,500 new units of housing near the Great Park in coming years—a projection that came at a time when FivePoint Communities had an approval from the city for 4,894 units and was offering to put about $200 million toward development of the actual public park at the Great Park in exchange for an OK to build 5,600 or so more. FivePoint boss Emile Haddad still has the money on the table for the park's development, and has slightly trimmed the request for additional units to 4,606. That would make a total of 9,500 units, on the nose—giving Haddad more than half a loaf in a deal with the city …
Chapman University will make room for the name of another big donor on its campus: Dale Fowler, who recently made headlines with a gift in the $60 million range and will lend his name to the law school there. He's familiar with the fellow whose name is on the business school, having graduated from Chapman a year ahead of chum George Argyros back in 1958 …
Chapman President Jim Doti says Fowler and Argyros both showed entrepreneurial streaks early. Fowler sold used cars in Long Beach during his years at Chapman, while Argyros worked in the grocery trade … Doti says Fowler and Argyros credit a Chapman professor named Eddie Alberts for encouraging them to "reach for the stars." Maybe Chapman should name something after Alberts …
The Insider hears that Dr. John West, director of surgery at the Breast Care and Imaging Center of Orange County in Orange, recently traveled to NY to tape a session with TV talker Dr. Mehmet Oz. West went cross-country to sound the alarm about the risks that women run by carrying cellphones in their bras …
Toshiba America's newly minted CEO Scott Maccabe found inspiration outside the classroom, and it led him away from a career in medicine and into the top spot at the Irvine-based U.S. unit of one of Japan's biggest companies. It came in 1976, when he was working his way through college at a tech company in Colorado and saw a former classmate get a $500,000 bonus as the outfit's top salesperson. Maccabe finished his degree in molecular biology but decided to enter a management training program at Storage Technology instead of medical school. Reporter Chris Casacchia has more on Maccabe and Toshiba on page 1 …
Chuck Martin's second novel of international finance and intrigue—Nadia's Obsession—is available online through Amazon and Barnes & Noble …
Tony Moiso's annual Rancho Mission Viejo Rodeo had 16 members of the media signed up for its opening day last Saturday and another five due for Sunday, a record for the two-day event, which has earned attention since 2001 with top-drawer human and animal talent.