Del Taco Adds 39 Stores to Development Pipeline
Wednesday, August 21, 2013
Share this article: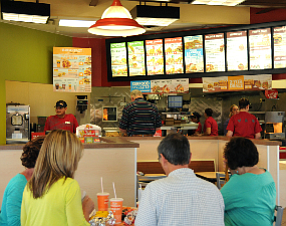 Lake Forest-based Del Taco LLC recently signed deals with seven groups that are expected to account for 39 new restaurants over the next 10 years.

The new restaurants are planned for California, Colorado, and Georgia among other states.
Del Taco, which has more than 550 restaurants, said it hopes to ink additional franchise deals to expand in several markets and regions across the U.S. It is targeting 60 restaurants in the Pacific Northwest, 65 in an area of Texas stretching from Houston to San Antonio, 22 in southern Georgia, 44 in the Tampa-St. Petersburg metro area, and 9 in Charleston, S.C.
The first Del Taco is set to open at the end of the year in Oklahoma and will be company owned.

Del Taco rolled out two new menu sections—Buck & Under and New Tastes—in April as part of a multi-phase effort to refresh the chain that also included an ad campaign and restaurant redesigns.