Wells Fargo to Sponsor Elephant Parade in Dana Point
Tuesday, August 20, 2013
Share this article: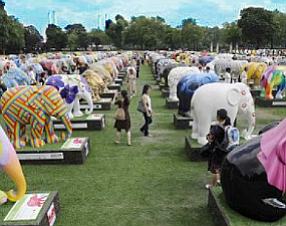 The wealth management arm of Wells Fargo Bank has signed on as the "grand patron" of the upcoming Elephant Parade in Dana Point—a key element in a global campaign to promote conservation of the Asian elephant species.
A group of hotels—the St. Regis Monarch Beach; Laguna Cliffs Marriott Resort & Spa; Ritz-Carlton, Laguna Niguel; and DoubleTree Suites by Hilton Hotel Doheny Beach-Dana Point—gathered under the banner of the Resorts at Dana Point to sponsor the event, which will be held in the U.S. for the first time.
The parade will showcase dozens of life-sized fiberglass elephant statues decorated by artists. It is slated to kick off this week and run through mid-November.
"We believe those of us who can, should lead positive environmental change, and we embrace that responsibility," said Chris Rommel, regional managing director for Wells Fargo Private Bank in Orange County.
The Elephant Parade has raised more than $6 million since 2006. Proceeds from the parade, including from sales of elephant statues, will go to Netherlands-based Asian Elephant Foundation.