OC Sees Job Cuts, Unemployment Up in July
Friday, August 16, 2013
Share this article: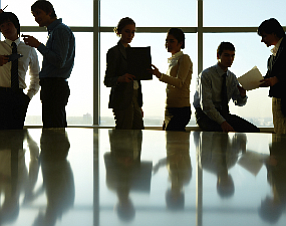 Local businesses cut 10,200 jobs in July, pushing up Orange County's unemployment rate to 6.5% from 6.1% in June.
OC now has 1,423,700 jobs, according to the state Employment Development Department. That's an increase of 29,300 jobs, or 2%, from a year earlier.
The construction sector made 1,400 hires in July, continuing a four-month streak of gains. The sector now has 77,400 jobs, reflecting a growth of nearly 7% over the past year.
Leisure and hospitality businesses also added 1,400 jobs last month, for a total of 191,100. That's up about 3% year over year. About half of the sector's gains in July were in the arts, entertainment and recreation sectors, with the rest split between food services and accommodation.
OC's trade, transportation and utilities sector added 1,300 jobs for a total of 247,200 here. The sector, which accounts for about 17% of OC's workforce, has grown less than 1% from a year earlier.
Manufacturing companies in OC added 1,100 jobs, thanks to hiring at makers of nondurable goods that offset job cuts at durable goods manufacturers. The sector overall has grown about 2% in the past year and now has 161,500 jobs.
Government jobs declined by 13,400 in July, primarily because of cutbacks in local and state government education in the summer. The sector overall holds 138,700 jobs, up 100 from last July.
Education and health services businesses lost 3,900 jobs last month. More than half—56%—of the decline came from healthcare and social assistance. The rest of the cuts were in educational services. The sector had 164,800 jobs total, up nearly 4% from a year earlier.
The jobless rate for California was 9.3% in July, compared with 8.9% in June and 11% in July 2012.
The nationwide unemployment rate was 7.7%, versus 7.8% in June and 8.6% a year ago.