Taco Bell Reveals Third Doritos Locos Flavor
Wednesday, August 14, 2013
Share this article: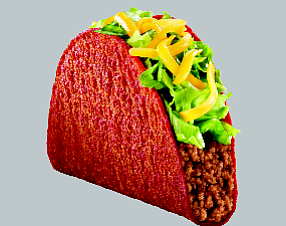 The third installment of Irvine-based Taco Bell Corp.'s Doritos Locos Tacos lineup is based on a newly created Fiery Doritos flavor.
The flavor is inspired by the Flamas-flavored Doritos chips currently available for sale and is described by the company as a mix of chili and lime.
Doritos Locos Tacos, along with the chain's Cantina Bell menu items, have helped drive sales since their launch last year.
Some 600 million Doritos Locos Tacos have been sold since last March, when the original nacho-flavored taco shell launched. That was followed up a year later with the Cool Ranch-flavored shell. The chain sold 100 million Doritos Locos Tacos in the quarter ended June 15.
The Fiery flavor is expected to roll out to all Taco Bells in the U.S. on Aug. 22 and will sell for $1.39 or $1.69 for a supreme version.
Taco Bell, which has nearly 6,000 restaurants in the U.S., notched a 2% same-store sales gain in the quarter ended June 15 for its Louisville, Ky.-based parent Yum Brands Inc.
Taco Bell announced a plan earlier this year to double its sales to about $14 billion over the next 10 years, which will come through the addition of new restaurants and menu item rollouts among other tactics.
Taco Bell is set to have its breakfast menu rolled out nationally next year.