Mazda to Boost SKYACTIV Engine Production With Mexico Factory
Friday, August 9, 2013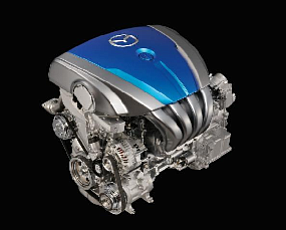 The parent of Irvine-based Mazda North American Operations has plans to build an engine machining factory in Mexico that would produce its SKYACTIV engines.
SKYACTIV is Mazda's fuel-saving technology for its engines, transmissions and chassis among other vehicle parts.
Mazda North American handles marketing, parts and customer service support for the U.S. and Mexico with the Mexico facility operations overseen by Mazda Motor de Mexico.
The company said it expects the engine machining factory to begin production in October 2013 with 230,000 engines made annually.
Those engines would go into cars such as the Mazda3 and Mazda2 sedans.
SKYACTIV engines are currently made in Mazda facilities in Japan and China.
The additional engine output is expected to help Japan-based Mazda Motor Corp. hit its global vehicle sales goal of 1.7 million by the year ended March 2016. Some 80% of those vehicles are expected to have the company's SKYACTIV technology.
Global sales fell 1% for the most recently ended fiscal year to about 1.2 million vehicles.
About 71% of the 24,977 Mazda vehicles sold in the U.S. in July came with the automaker's SKYACTIV. U.S. July vehicle sales showed a gain of 29.4% from the year-ago period.