Knott's Helps Parent to Revenue Gain
Thursday, August 8, 2013
Share this article: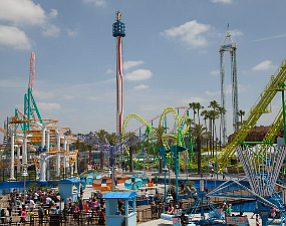 A boost in guest spending at Knott's Berry Farm and other parks owned by Sandusky, Ohio-based Cedar Fair Entertainment Co. helped the amusement park operator to a slight gain in revenue in the second quarter.
Cedar Fair owns 11 amusement parks, five water parks and five hotels.
Knott's Berry Farm in Buena Park is Cedar Fair's only park open all year, with the current quarter generally accounting for its highest attendance level for the year.
Cedar Fair reported second-quarter net revenue up 1% from a year earlier to $361.6 million.
That growth came from a 5% increase in average guest per capita spending at the company's parks. There was also a 5% increase in out-of-park revenue generated from the company's hotels, along with food and merchandise purchased outside of the parks.
Attendance for the quarter fell 4%, which the company attributed to weather patterns and a change in its accounting period that made this year's second quarter shorter.
Knott's Berry Farm, which the company called out as one of its top performing parks so far this year, reworked its boardwalk-themed area with three new rides this year. Knott's also re-opened its Timber Mountain Log Ride this year following a multi-million dollar project to refurbish the attraction.
Cedar Fair reiterated its full-year guidance of net revenue in the range of $1.09 billion to $1.12 billion. Adjusted earnings before interest, taxes, depreciation and amortization for the year is expected to be between $400 million and $410 million.
Cedar Fair shares closed up less than 1% on Thursday to a market value of $2.42 billion.