Emulex Profits Beat Expectations
Thursday, August 8, 2013
Share this article: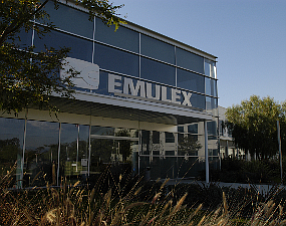 Costa Mesa-based networking equipment maker Emulex Corp. on Thursday reported June quarter revenue in line with Wall Street expectations and adjusted profits that beat estimates.
The company posted revenue of $120.4 million, down 6.6% from a year earlier.
Analysts on average had forecast sales of $19.7 million.
Adjusted profits hit nearly $14 million, down 39.7% from a year earlier.
Wall Street had expected an adjusted profit of $11.8 million.
Emulex designs and makes networking equipment that connects storage, servers and data centers.
It has long been a leader in the fibre-channel market, along with Aliso Viejo-based rival QLogic Corp., but that segment is generally considered to be in long-term decline.
Both companies are eyeing the 10-gigabit Ethernet connection market, a competitive segment that has drawn big industry players as storage needs and speedy data transfer become increasingly important with the proliferation of video and streaming content.
A key design win to monitor trade latency and network troubleshooting for the Australian Securities Exchange, plus the launch of a performance management product line from a recent acquisition, highlighted the recently ended quarter.
Jeff Benck, who was named chief executive in July, recently told the Business Journal that integrating the $130 million buy of New Zealand-based Endace Ltd. is among his top priorities.
"The integration of Endace continues to move at a very brisk pace, including our plans to scale the sales investments to take advantage of the Emulex global footprint," Benck said.
He replaced Jim McCluney, who was named executive chairman of the board.
McCluney coveted Endace products, which feature technology designed to record, visualize and monitor network traffic and are pegged as a growth driver for the company.
Emulex said revenue topped $478.6 million in the 12 months through June, the end of its fiscal year.
That's down 4.6% from the same period a year earlier.
Adjusted profits hit $66.9 million, down 12.1%.
Emulex provided an outlook on the current quarter that's below Wall Street expectations, an announcement that could bring down shares in after-hours trading.
The company projects sales of between $109 million and $113 million.
Analysts on average forecast revenue of $120.4 million.
Adjusted profits are pegged at between $8.1 million and about $10 million.
Wall Street consensus expects adjusted profits to be approximately $13.6 million.
Emulex shares were down 3.3% to a market value of about $698.7 million at the close of trading today.