June Rates Continue Rise for OC Hotels
Wednesday, August 7, 2013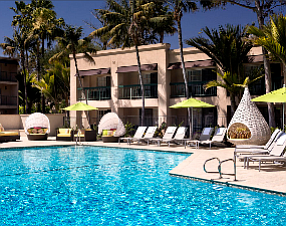 Orange County hotels continued to see market fundamentals rise in June, according to the latest data available from industry researcher PKF Consulting USA.
The average daily rate for Orange County rose 5.1% in June to $161.62.
Anaheim hotels saw the largest percentage gain in June average daily rates from a year earlier, up 6.2% to $162.02.
Occupancy in June was about flat countywide, with hotels notching a 0.4% gain to 84.68%.
The Costa Mesa market saw the largest percentage gain in occupancy of 6.9% to 89.37% during the month.
Revenue per available room—a key industry measure that multiplies occupancy by the average daily rate—rose 5.4% to $136.86 countywide.
Huntington Beach notched the largest revenue per available room percentage gain from a year earlier, which a gain of 8.2% to $212.42.
Hoteliers nationally continue to see room rates and occupancy levels rise even as income from other sources remains sluggish.
Those are the findings of new research done by Smith Travel Research Inc. for PKF Consulting. Smith Travel surveyed some 6,500 U.S. hotels, and found a 6.3% gain in room revenue between 2011 and 2012. That outpaced total room revenue growth of 5% for the same period.
Hotels also generate revenue from sales of food and beverages and rentals among other charges.