Disneyland Resort Marks Q3 Attendance Record
Wednesday, August 7, 2013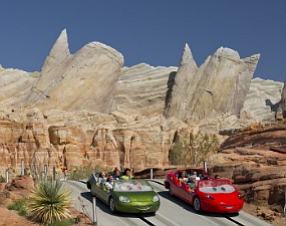 Attendance at the Disneyland Resort in Anaheim and its parent's other U.S. parks saw record-setting attendance for the third quarter ended June 29.
The Disneyland Resort includes two theme parks, three hotels and the Downtown Disney shopping and entertainment district.
Burbank-based Walt Disney Co. doesn't break out attendance results for each of its parks, but the company said in a conference call with analysts on Tuesday that U.S. attendance was up 3% for record-setting quarterly results for the Disneyland Resort and Walt Disney World.
The company's parks and resorts division saw overall operating income rise 9% during the quarter to $689 million.
Revenue for the parks and resorts unit was up 7% during the quarter to $3.68 billion.
Companywide revenue for the June quarter was up about 4% to $11.58 billion.
Net income for the quarter rose about 1% to $1.85 billion.
Investors still sent Disney shares down about 2% on Wednesday after the company's studio entertainment division saw operating income fall 36% to $201 million on revenue of $1.6 billion. The decline stems from marketing expenses for The Lone Ranger movie in addition to lackluster sales of Iron Man 3.
The company's interactive unit widened its operating loss by 38% to $58 million. Revenue for the division, was down about 7% to $183 million resulting from declines in the social gaming and console game sales.
Disney had a recent market value of $118.7 billion.