Midday Stock Roundup
Tuesday, August 6, 2013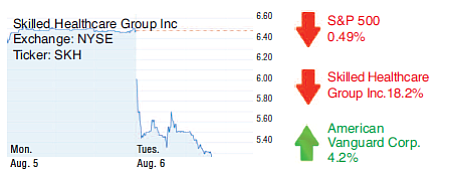 The S&P 500 was down 0.49% to 1,698.83 in afternoon trading Tuesday.
The Dow Jones Industrial Average fell 0.57% to 15,523.81, and the Nasdaq was down 0.63%, to 3,669.60.
The yield on a 10-year Treasury bond was up 0.6%, to 2.65%.
The price of gold was down 1.5% to $1,282.80 per ounce.
Newport Beach-based specialty chemical maker American Vanguard Corp. was up 4.2%, to $25.89, after the company reported second-quarter and mid-year financial results late Monday. Its June-quarter net income fell 4% to $8.4 million, while profit for the first six months of this year jumped about 45%, to $25.3 million. American Vanguard managed a 2% gain in revenue for the latest quarter, to $86.8 million. Total revenue for the first and second quarters together was up 21%, to $208.3 million. The company recently had a market value of $730.7 million.
Shares of Foothill Ranch-based Skilled Healthcare Group Inc. fell 18.2% to $5.30, after the company made downward adjustments to its full-year earnings and revenue guidance. The company, which owns and operates nursing facilities and other therapy businesses, said it expects 2013 net income of between $14.9 million and $17.2 million, below a consensus estimate of about $23.3 million. It expects to hit between $860 million and $870 million in full-year revenue, compared with an estimate of $883 million. Skilled Healthcare Group yesterday reported June-quarter financial results, including $1.5 million in net income on $213.7 million in revenue, missing Wall Street expectations on both metrics. The company's recent market value was about $208 million.