$47M Buy for Kofax
Thursday, August 1, 2013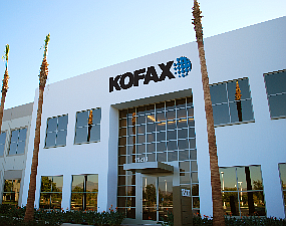 Irvine-based business software maker Kofax PLC has bolstered its big data offerings with a $47 million buy of a Palo Alto company that makes data integration software.
Kofax paid cash to acquire all the stock of Kapow Software, with three smaller payments divvied out over the next two years. Kofax will pay an additional $2.4 million after it receives Kapow's audited financial statements, another $2.2 million a year from closing, and $2.5 million two years from closing.
The acquisition builds on Kofax's $13.5 million March deal for Altosoft Inc., a business intelligence and analytics software developer based in Pennsylvania.
The combined offerings will be targeted to large corporations and are billed to enable users to access critical data faster and cheaper.
Kapow's software, which integrates and automates data in near real-time, is used by hundreds of companies, including Deutsche Telekom and Thomson Reuters.
Kofax makes scanning software used by businesses to streamline the flow of information, eliminate paper, speed up productivity, reduce costs and improve customer service.
It said the buy should help the company penetrate the data integration market, which is pegged to grow at a 9% annual clip to more than $2.8 billion by 2016, according to Stamford, Conn.-based market tracker Gartner Inc.
Privately-held Kapow posted revenue of $15.9 million in the 12 months through June 30, the end of its fiscal year. A majority of its sales arose from software licensing agreements.
It had an adjusted loss of $2.2 million, gross assets of $7.7 million and no material debt.
The company's 72 employees, including Chief Executive John Yapaola and Stefan Andreasen, founder and chief technology officer, will be retained for the immediate future, Kofax said.
Kofax last year hit a company-record $262.5 million in revenue for its fiscal year ending June 30, up 8% from the prior year. It posted a 5% rise in profits to $16 million.
The company is scheduled to announce earnings for the recently ended fiscal year Sept. 4.