REAL ESTATE: COMMERCIAL, HOUSING PIPELINE GROWS
Shopoff Group Considers Major Riverside Project
Sunday, April 28, 2013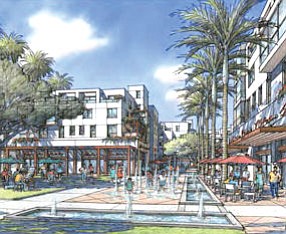 The project, called Uptown Newport, recently got Newport Beach city approval, and construction for the first phase of development is expected to begin in earnest this year.
In Anaheim's Platinum Triangle, Shopoff Group recently got two adjoining sites along Katella Avenue entitled for two apartment complexes—called Platinum Vista and Platinum Gateway. That should total about 749 units.
"We're going back to work," Shopoff said. "We've been saving up (the past few years)."
City Hall Shortlist
The company has its eyes on at least one more significant project in OC, for the upcoming redevelopment of Newport Beach's old City Hall site in Lido Village.
Shopoff Group is part of one of the three remaining development teams in the running to redevelop the 4.3-acre site near the entrance of Balboa Peninsula at Newport Boulevard and 32nd Street.
Shopoff Group has proposed building a 99-unit apartment complex at the site, along with 15,000 square feet of upscale retail space. It would work with Scottsdale-based apartment developer Wolff Co., which it also has partnered with in its Platinum Triangle projects.
The other two proposals for the former City Hall site, by Irvine-based RD Olson Development and Sonnenblick Development LLC of Los Angeles, call for hotel development.
The city said it expects to select the winning team for the Lido Village project in May or June and that the proposed project-site design review may be ready for public hearings late this year.
Prev Next