REAL ESTATE: COMMERCIAL, HOUSING PIPELINE GROWS
Shopoff Group Considers Major Riverside Project
Sunday, April 28, 2013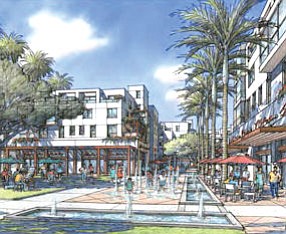 The Shopoff Group is considering building a nearly 2.5-million-square-foot industrial project in Riverside County, the latest entry in a growing Southern California development pipeline for the Irvine-based real estate investor.
The company last week held an early-stage meeting with Riverside County's planning director for its proposed I-10 Gateway Center, a two-building industrial project in Cherry Valley.
The site, situated along Interstate 10, runs about 230 acres. It's just north of the city of Beaumont and about 30 miles west of Palm Springs.
An affiliate of Shopoff is looking to build a two-building industrial complex at the site, with the larger of the two buildings running 1.6 million square feet.
The complex, roughly the size of 43 football fields, would have more than 420 loading bays, according to documents filed with the county.
Other area companies listed as being part of the development include Irvine-based architect HPA Inc., Irvine-based civil engineer Hunsaker & Associates and Placentia-based Hunter Landscape.
The project, assuming it gets the necessary approvals, could break ground as early as next year, according to William Shopoff, chief executive of the developer.
Prospective tenants haven't been announced, although Shopoff said the region's improving industrial market should support the development.
"We think there's demand for this type of (high-end) project," he said.
Industrial development of any size has been a rarity of late in Orange County, but the Inland Empire has begun to see a flurry of construction.
About 7 million square feet of industrial development was under way in the Inland Empire at the end of the first quarter, with most of those buildings larger than 300,000 square feet, according to data from the Irvine office of Voit Real Estate Services.
Area companies are involved in some of those other projects under construction. A few miles from the Shopoff site, in the city of Beaumont, Aliso Viejo-based CT Realty Investors recently began construction on a 600,000-square-foot distribution building for Icon Health & Fitness Inc.
OC Apartments
The Cherry Valley land has been controlled by Shopoff for close to a decade and was originally entitled to hold a housing development. The last real estate downturn made those plans unrealistic, Shopoff said.
The Riverside County plans to turn a residential-entitled site into a commercial real estate development run counter to what Shopoff Group has in store for a few sites in OC.
The company is working to turn a 25-acre office site near the Irvine and Newport Beach city line along Jamboree Road into a 1,244-unit residential project. The site was previously owned by chipmaker Conexant Systems Inc.
Prev Next