High-End Homes Aimed to Fill Newport Center Void
MERIDIAN PROJECT FIRST IN MORE THAN 20 YEARS
Sunday, April 28, 2013
Share this article: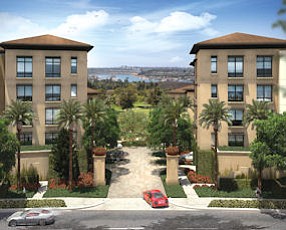 Newport Center is about to get a little more livable.
Early-stage construction work is now under way for Meridian, a high-end home development slated to go up next to the Newport Beach Marriott Hotel & Spa.
The 79-home project, located on a 4.3-acre site along Santa Barbara Drive overlooking the Newport Beach Country Club, is the first for-sale housing project to go up in the area surrounding the Fashion Island shopping center in more than 20 years.
The upscale Newport Center area—long home to high-rent offices, shops and restaurants and now a just-opened, $128 million civic center and City Hall—is more than due for new housing, according to officials with The New Home Co., the Aliso Viejo-based homebuilder heading up the project.
"If there's a heart of Newport Beach, this is it," said Tom Redwitz, chief operating officer of the privately held builder.
New Home Co. bought the land for the project—one of the few available area parcels—late last year in a venture with Hillwood West, a unit of Ross Perot Jr.'s Hillwood, the Dallas-based development firm that's helping finance Meridian's development.
The two companies plan an official groundbreaking ceremony for the project this week.
Expected Sales, Prices
Sales for the five-building development aren't expected to begin until later this year, but there's already a buzz—and a growing interest list—for the project, according to Joan Marcus-Colvin, New Home Co. senior vice president of sales, marketing and design.
Prices for the one- and two-story residences, which will run from 2,335 square feet to 3,905 square feet, are expected to start around $1.5 million.
That's high by Orange County standards, but a $1.5 million price tag is only about $300,000 more than the median price for a home sale in Newport Beach so far this year.
The Meridian development, built on the site of a former tennis club, is designed to take advantage of ocean, golf course, garden and city views, according to the builder.
Concierge service and other amenities are expected to give the development the feel of a luxury resort, Redwitz said.
Residents will get "the freedom of a turn-key residence, minimal attention to maintenance and complete privacy and security," he said.
It's the second high-end Orange County development New Home has taken on since its 2009 inception.
The company's other project, Lambert Ranch in Irvine, has been one of Southern California's standout developments since its opening last year.
New Home Co. officials said they've now sold 133 of the 169 homes at the gated community in North Irvine, with prices for the remaining homes currently ranging from $1 million to $1.6 million.
When the company paid a reported $50 million for the 50-acre Lambert Ranch land in 2010, OC's housing market showed few signs of an imminent turnaround.
There's a much more optimistic feel as Meridian moves ahead, particularly for higher-end projects.
Dana Point's Strand at the Headlands custom-home development, for instance, has seen more than $50 million worth of land sales so far this year, according to the developer (see Luxury Column, page 12).
"We're expecting a strong reception" to Meridian, Redwitz said.
Busy Center
The new housing project comes along with an already-heavy dose of nonresidential construction in and around Fashion Island over the past several years.
A multiyear, $100 million revamping of the 1.5-million-square-foot Fashion Island shopping center has included the addition of a 32,000-square-foot Whole Foods Market, an upgraded Island Cinema and several new restaurants.
Irvine Company, the owner of Fashion Island, also is moving ahead with a pair of office towers in Newport Center, including a 19-story building next to the real estate company's headquarters.
The "live" portion of the "live-work-play" atmosphere at Newport Center has been harder to come by.
There's been little new residential development eyed in the area besides Meridian—other than a high-end, 524-unit apartment complex proposed by Irvine Co. to replace San Joaquin Plaza, an older office complex it owns.
Yet there's a need, Redwitz said.
"There's a lot of people (at Newport Center) who want to walk to work," he said.
The builder expects employees at Pacific Investment Management Co. will be among the buyers at Meridian, along with workers at the dozens of other large businesses in the area.