Builder Seeks NB Home Hit, Indirectly; Logan's Gym Run
Sunday, April 28, 2013
Share this article: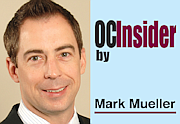 Duffers at Newport Beach Country Club will soon get a close view of construction at Meridian, the high-end housing project going up just outside a few of the club's fairways, next to the Newport Beach Marriott Hotel & Spa (see story, page 1). But the project's builder, Aliso Viejo-based The New Home Co., doesn't want golfers and homeowners to get too close. Among other planned tweaks to the course will be a reconfigured tee box at one hole, to keep "golfers like me" from hitting the pricey Newport Center homes with an errant drive, COO Tom Redwitz says. Hillwood Chairman Ross Perot Jr., whose Dallas-based company is partnering with New Home Co. on Meridian, will be in town this Friday for a groundbreaking ceremony…
Another sign of a comeback in OC's housing market: The Insider hears that land sales for the first phase of homes at the Great Park Neighborhoods have exceeded expectations, thanks in large part to publicly traded builders' willingness to pay top dollar for a foothold in the Irvine development. Sales for the first 720 home sites should wrap up in a matter of weeks. FivePoint Communities' Emile Haddad said last week that the first phase of the development is expected to open by the end of September …
It was a short retirement for Steven Buster, who was named CEO at Pacific Mercantile Bancorp in Costa Mesa last week. He stepped down from Mechanics Bank in Richmond, Calif., at the end of 2012 after an eight-year tenure there. Steven's family counts long ties to OC; father Edmond Buster was the chairman of the California College of Medicine at UCI and helped found the local chapter of the Lincoln Club …
NFL All-Pro Rich Saul joined his wife Eileen in supporting the OC chapter of Childhelp for three decades before his passing last year. Both are still on the job, according to Eileen, who tells our Rick Reiff that the nonprofit's annual golf tournament fundraiser is now the Childhelp Rich Saul Memorial Classic. It's set for May 6 at the Newport Beach CC—and has been sold out since January. Visit ChildhelpOC.com for more info …
Logan Dooley had knee surgery in December and is still on the U.S. national team's injured list, but that didn't stop him from winning the state championship in trampoline this month for the eighth time. Then again, dealing with challenges is nothing new for the OC gymnast, a former world champ who just missed participating in the past two Olympics and is vying for a spot on the 2016 team, when he'll be 28. Off the trampoline, he's turned his severe dyslexia into a lesson for others, guest speaking at his alma mater, the Prentice School for kids with learning disabilities in Santa Ana. Dooley went to the 2008 and 2012 Olympics as an alternate. Last year's Olympic trials in San Jose were especially bittersweet, as Logan just missed qualifying for the London team while his ailing dad Jim cheered him on. Jim, a home inspector, died in October from heart disease. The likeable Dooley has a sizable rooting section led by his coach, Robert Null of World Elite Gymnastics in Rancho Santa Margarita, and his mom Nancy Dooley, executive director of the OC Forum. A golf tournament on May 31 at Tijeras Creek will raise funds for Dooley and other top SoCal gymnasts. More info: www.bit.ly/worldelite.