Vans Notches Q1 Double-Digit Gains
Friday, April 26, 2013
Share this article: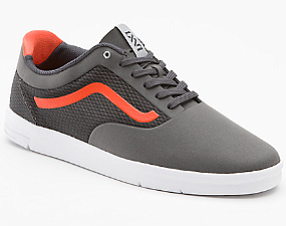 Cypress-based skate brand Vans Inc. recorded another big quarter for parent VF Corp. of Greensboro, N.C.
Vans saw overall revenue up 25% in the first quarter, with double-digit gains for its Americas, Asia and Europe regions.
VF Corp. doesn't break down revenues for its individual brands. The company said Vans had about $1 billion in 2011 sales when it announced plans last June to double Vans' sales by 2016.
"This impressive performance puts the brand well on track to become VF's second largest brand in 2013 behind The North Face," said Steven Rendle, vice president and group president of VF's outdoor and action sports division for the Americas.
The revenue gains for Vans came largely through the company's expansion into new markets, particularly the East Coast, with new stores in addition to more marketing.
The company launched its "Anthem" global brand campaign earlier this year.
Up next for Vans is the U.S. Open of Surfing in July. The company is now title sponsor of the Huntington Beach event, a role previously held by Beaverton, Ore.-based Nike Inc.