Ingram Posts Mixed Q1 Results, Sales Outlook Above Target
Friday, April 26, 2013
Share this article: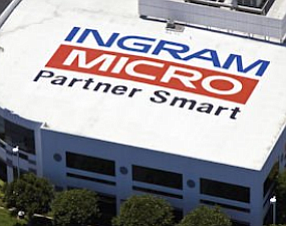 Shares of Santa Ana-based Ingram Micro Inc. fell in afternoon trading Friday, a day after the company reported mixed first-quarter results while providing a current quarter revenue outlook above Wall Street estimates.
Ingram Micro was down about 6% in midday trading to a market value of $2.56 billion.
The company posted revenue of $10.26 billion in the March quarter, up 19% from a year earlier and beating analyst forecasts of $10.1 billion.
Net income topped $63.1 million, down 8.4% from a year ago and narrowly missing Wall Street expectations of $64.7 million.
The company attributed the profit decrease to a higher than expected tax rate of 34.6% in the March quarter and lower pricing on hard disk drives compared to the same period a year ago.
Ingram Micro is the biggest distributor of computers, software and other technology products in the world.
The company posted sales gains in three of its four operating regions during the past quarter.
Revenue in North America was up 7% to $3.86 billion, led by gains across all its U.S. divisions.
The Latin America region topped $461.9 million, up 7% and a record for the quarter
Asia Pacific also posted record first quarter sales of $2.19 billion, up 12.5%, led by double digit growth in India and Australia, where the company cut operating losses by more than $5 million compared to the last quarter of 2012.
The company has been on a campaign to regain profitability and customers in Australia following a major operational glitch more than two years ago. Problems with a new electronic logistics system there first surfaced in early 2011, causing Ingram to miss Wall Street profit targets in the first quarter of the year and hampering earnings since then.
Sales in Europe were flat at about $2.66 billion.
Earnings in the recently ended quarter were buoyed by last year's acquisitions of BrightPoint Inc., which contributed about $10.5 million to adjusted profits.
The $840 million cash buy of BrightPoint, an Indianapolis-based wholesale distributor, is projected to save the company at least $55 million annually in cost savings, while contributing $51.1 million in adjusted profits this year and $76.7 million in 2014, excluding one-time charges and integration costs.
Ingram Micro in the current quarter projects sales to increase in the range of $10.36 billion to $10.68 billion.
Analysts on average expect sales of $10.23 billion.