Taco Bell Sales Momentum Continues With Doritos Locos Tacos, Cantina Menu
Wednesday, April 24, 2013
Share this article: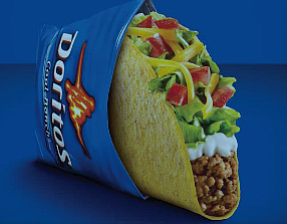 Irvine-based Taco Bell Corp.'s Doritos Locos Tacos and Cantina Bell continued to bolster sales for the fast-food chain's parent.
Taco Bell, which numbers nearly 6,000 units in the U.S., saw same-store sales grow 6% for the first quarter ended March 23, carried by continuing momentum for its new menu offerings.
The chain's performance led Yum! Brands Chief Executive David Novak to highlight Taco Bell as "looking more and more like a power brand" during a call with analysts on Tuesday.

Taco Bell led Yum! Brands' overall 2% same-store sales growth in the first quarter.
Meantime, Yum! Brands' other U.S. chains—Pizza Hut and KFC—saw sales soften during the quarter with same-store sales for each falling 1%.
The first-quarter results include sales of the new Cool Ranch Doritos Locos Tacos, which launched at the beginning of March. It's the second iteration of the Doritos Locos Tacos, with the original flavor rolled out last March in the biggest product launch in Taco Bell history.
"In the past year, I don't think anyone has done a better job of innovation than Taco Bell," Yum! Brands President Rick Carucci said during yesterday's earnings call.
Yum! Brands expects to sell about 100 million Doritos Locos Tacos in the current quarter.