JWA March Passenger Traffic Rises 6%
Wednesday, April 24, 2013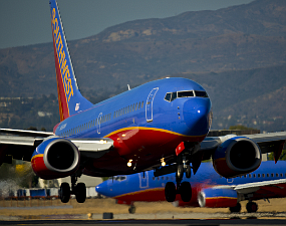 Southwest Airlines and sister AirTran Airlines led March passenger traffic at John Wayne Airport.
The two airlines combined to serve 317,622 passengers for the month.
They were followed by United Airlines (128,059 passengers) and American Airlines (94,810 passengers).
Overall passenger traffic at the airport was up 6% in March compared with a year earlier to 771,554 passengers.
International traffic, which includes traffic to and from Canada and Mexico, surged more than 300% to 30,304 passengers. The jump in international traffic reflects the start of Mexico service through AirTran in June and Interjet in October.