Broadcom Shares Jump on Q1 Earnings, Sales Outlook
Tuesday, April 23, 2013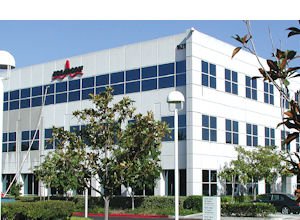 Broadcom Corp. shares jumped in after-hours trading Tuesday after the Irvine-based chipmaker reported first-quarter sales and earnings that beat Wall Street expectations and provided a revenue target above estimates for the current quarter.
Investors sent shares up more than 4.7% on the rosy outlook in extended trading to a market value of $18.7 billion.
The company posted revenue of $2.01 billion in the recently ended quarter, up 9.7% from a year earlier.
Analysts on average had forecast sales of $1.91 billion.
Adjusted profits came in at $400 million, up 3.4% from a year ago and beating Wall Street expectations of $318.6 million.
Rising demand for the company's baseband and connectivity chips drove the strong performance, Chief Executive Scott McGregor said.
Baseband chips are essentially the brains of mobile phones.
Broadcom specializes in communication chips that go in tablets, smartphones, set-top boxes, broadband modems, networking gear and other products.
The company provided guidance on revenue, gross margins and research and development for the current quarter, projecting sales of about $2.1 billion, above analyst expectations of $1.91 billion.
Gross margins are projected to be about 49.4%, flat from the recently ended quarter.
Research and development is projected to range from $794 million to $814 million, compared to $794 million in the recently ended quarter.