Fisker Misses DOE Loan Payment
Monday, April 22, 2013
Share this article: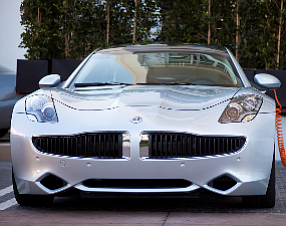 Anaheim-based Fisker Automotive Inc. missed a loan payment due today to the U.S. Department of Energy, according to the department.
The news comes a little more than a week after the DOE seized the luxury hybrid automaker's $21 million reserve account, made up of money from the company's sales and investors.

The account's funds, due to the missed payment, will now go toward paying down the $192 million Fisker owes the DOE. The funding was part of a $529 million DOE loan suspended in 2011 after Fisker missed certain production and sales milestones on its first and only vehicle on the market, the Karma sedan.
The U.S. House of Representatives Oversight and Government Reform subcommittee has scheduled a hearing on the troubled automaker for Wednesday.
Fisker founder and former Executive Chairman Henrik Fisker, along with Chief Executive Tony Posawatz, are expected to be witnesses at the "Examining the Department of Energy's Bad Bet on Fisker Automotive" hearing.
Fisker cut about 160 employees at its local office this month and is rumored to be eyeing bankruptcy.
The automaker has faced a series of struggles over the past few years, marked by disappointing sales and the halt on the Karma's production last year due to a battery shortage from supplier A123 Systems Inc.
Fisker had been courting potential investors, but serious talks collapsed in March.