From Haute to Hip in Airport Area
OBEY TAKES FORMER ST. JOHN KNITS SPACE IN 170,000-SF LEASE
Saturday, April 20, 2013
Share this article: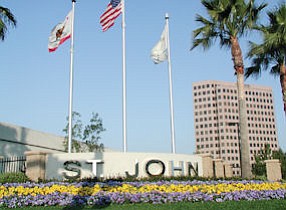 Irvine-based apparel maker Obey Clothing has expanded its operations into one of the more prominent industrial buildings in the area around John Wayne Airport.
The company, which makes urban-style clothes and accessories with designs licensed from graphic artist Shepard Fairey, recently signed a 170,466-square-foot lease for 2722 Michelson Drive.
The deal is believed to be among the largest industrial leases in Orange County so far this year, according to the latest quarterly market report from the Irvine office of Voit Real Estate Services, whose brokers represented Obey Clothing in the lease.
The company's new Irvine location is about half a mile from John Wayne Airport, at Jamboree Road and Michelson, just off the San Diego (405) Freeway.
The building previously served as a manufacturing and office site for St. John Knits International Inc., a high-end clothing maker that vacated the property in 2011.
Building Lease, Use
Obey Clothing is leasing the entire building in a deal that runs five years, according to brokers with the Irvine office of Jones Lang LaSalle, which represented the landlord in the lease.
The company plans to use the building for storage and warehousing, according to Jones Lang LaSalle Senior Managing Director Louis Tomaselli, who worked on the lease with colleagues Zach Niles and Steve Wagner.
Obey Clothing is expected to keep its current Irvine headquarters at a 97,400-square-foot building it leases on Von Karman Avenue. It moved to Irvine from Santa Ana near the start of 2011.
The Von Karman property—previously the home of clothing companies Silver Star Casting Co. and nZania LLC—includes a screen printing facility, warehouse space and offices.
Terms of the lease at 2722 Michelson weren't disclosed. Monthly rents for industrial buildings near the airport in Irvine—where vacancy rates run about 6.2%—average about 55 cents per square foot, according to Voit data.
Hope Growth
Obey Clothing was formed in 2001, when Fairey approached Don Juncal, a former national sales manager for Irvine-based Redsand Inc., about using his art on clothes.
Juncal—now the owner of Obey Clothing parent company One 3 Two Inc.—and three partners invested $1 million of their own money to get the business off the ground.
Obey Clothing started with basic T-shirts and sweatshirts using the artwork of Fairey, who gained national notoriety in 2008 with the "Hope" poster of then-presidential candidate Barack Obama.
The company now offers full lines of clothing and accessories for men and women, which the company says are "aligned with populist views" of Fairey.
The privately held company does not disclose sales figures; documents related to a copyright lawsuit between Obey Clothing and The Associated Press over the use of the Obama artwork show the company had revenue of $24.4 million and a profit of $4 million in 2009.
A settlement between Obey Clothing, Fairey and the AP was struck in 2011.
Development Delay
Obey Clothing's deal at 2722 Michelson, along with a lease of land at an adjoining property, appears to push off the potential of any new office development at the high-profile site for at least a few more years.
California Green, a 705,500-square-foot office campus development, has been proposed for the entire block that holds 2722 Michelson.
St. John Knits sold its property in 2006 to Houston-based developer Hines Interests LP and pension fund California Public Employees' Retirement System.
St. John then inked a five-year deal to lease back a portion of the facility. It moved its operations and workers to other area buildings after that lease expired in 2011.
Affiliates of New York-based insurer American International Group Inc. owned a loan tied to the former St. John Knit property and took over ownership of the 2722 Michelson building through foreclosure in 2011.
Hines and financial partner CalPERS still own the remainder of the land on the same block of the former St. John building, along Jamboree Road from Michelson Drive to Teller Avenue.
Several other older industrial buildings on that block have been razed in recent years.
The land Hines and CalPERS still own is believed to be debt-free, and a 1.6-acre portion of that property was recently leased to Avis Rent A Car as an auxiliary lot, in a three-year deal, according to Tomaselli.
1st, 2nd Phases
The first phase of the Hines-backed California Green development was to include the already-razed land, while a second phase would call for the demolition of the St. John building.
A time frame for either of those two phases of development moving ahead has not been disclosed and would call for Hines and CalPERS to work with AIG on the second phase.