Pricing Set for Kia Premium Sedan
Friday, April 19, 2013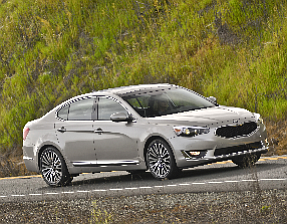 Irvine-based Kia Motors America Inc. confirmed pricing on its new premium sedan, the Cadenza.
The automaker's flagship sedan starts at $35,100, which is about on par with what industry watchers had speculated it would be when the automaker unveiled it at the North American International Auto Show in Detroit earlier this year.
The Cadenza is set to go on sale later this month and expands Kia's vehicle model into the premium market space.
It will compete with Hyundai's Azera, Lexus ES models and the Lincoln MKZ.
"The all-new Cadenza is a world-class Kia for the emerging space between mainstream and luxury and will appeal to discerning shoppers in the market for an upscale sedan," said Kia Executive Vice President of Sales Tom Loveless. "We're confident that Cadenza's sophisticated styling, luxuriously appointed cabin and long list of available technology will make it a strong contender in the marketplace."
Kia is set to roll out a total of three new models and four redesigned vehicles by the end of this year.