Wienerschnitzel Founder Galardi Passes
Monday, April 15, 2013
Share this article: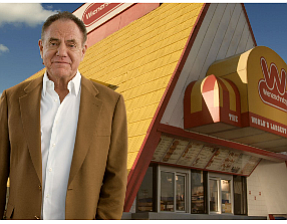 John Galardi, fast-food industry veteran and founder of the popular Wienerschnitzel hot dog chain, died Saturday after battling pancreatic cancer.
He was 75.
Galardi was the founder and chair of Irvine-based Galardi Group, which operates Wienerschnitzel, The Original Hamburger Stand and Tastee Freez chains.
Galardi started Wienerschnitzel in 1961 with a single hot dog stand and grew it into a chain of 350 stores in 10 states and Guam.
He got his start in the fast-food industry after moving to Southern California from Kansas City, Missouri, at the age of 19. His first job in the business was with the Taco Bell chain. Four years later Galardi opened the first Wienerschnitzel in Wilmington in Los Angeles County.
"The entire Galardi Group family of employees and franchisees are deeply saddened by the loss of Wienerschnitzel founder John Galardi. A true pioneer in the restaurant industry, Galardi's entrepreneurial spirit was the cornerstone of the company's success," said Galardi Group President and Chief Operating Officer Dennis Tase. "Along with founding Wienerschnitzel, he expanded the Galardi Group into a multi-branded company with the additions of The Original Hamburger Stand and Tastee Freez."
Galardi is survived by wife Judane and four children.