South Coast Plaza Voted Top Shopping Spot Among Chinese Travelers
Monday, April 8, 2013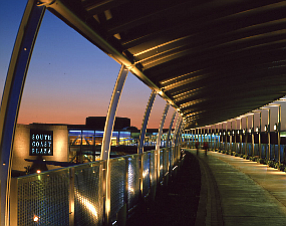 High-net worth Chinese travelers voted South Coast Plaza their top shopping destination in the U.S.
The shopping center, which had about $1.5 billion in sales last year, received the nod for Best USA Luxury Shopping Mall as part of luxury travel magazine Shanghai Travelers' Club's 2013 Luxury Travel Awards.
The magazine describes it readership as high net worth Chinese travelers.
Other award winners included the Waldorf Astoria in New York for Best USA Hotel and Trump National Golf Club in Washington D.C. for Best USA Golf Course.
South Coast's 7% gain in sales last year was aided in part by an uptick in shoppers from China, Korea, Brazil and the Middle East.
The growth also was fueled by the addition of 18 new stores and 17 store redesigns last year.