HOW HOMEBUILDER PLANS TO "HIT FOR AVERAGE"
TRI Pointe's Post-Recession Approach
Saturday, April 6, 2013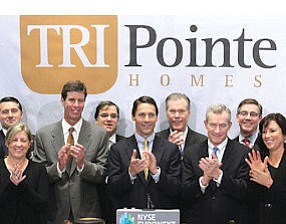 TRI Pointe Homes Inc., Orange County's newest public company, believes a conservative business plan born out of the last recession is the way to navigate the ups and downs of California's roller coaster real estate market.
"You try to learn things from downturns," said Chief Executive Doug Bauer, who founded the Irvine-based homebuilding company in 2009 with Chief Financial Officer Mike Grubbs and President Tom Mitchell.
The three started the company near the bottom of the last housing cycle after leaving Newport Beach-based William Lyon Homes Inc., where they held executive positions.
What TRI Pointe learned, Bauer said, is that the two killers of homebuilders during the last recession were "too much leverage and too much land."
"Land is a four-letter word in a downturn," said Bauer.
Tri Pointe's strategy since its inception has been to keep a low level in debt—as of the end of 2012 it had $57.4 million in outstanding loans—as well as a relatively modest pipeline of land that's enough for development plans for the next two to three years.
Lots
TRI Pointe owns or controls about 2,100 lots in California and Colorado. Plans for the lots include a mix of home types that range from entry-level housing in infill locations to $1.5 million homes in San Jose.
Buying larger land sites—which likely would hold potential for bigger returns but also requires development over multiple housing cycles—isn't expected to be a focus for the homebuilder.
"We're not masterplanned developers," Bauer said.
Local projects in TRI Pointe's pipeline reflect the company's post-recession business strategy.
In La Habra, the company is selling homes at Brio, a 91-home development that opened in February with prices starting at around $450,000. It recently closed on the former Wardlow Elementary school site in Huntington Beach, where 49 single-family homes are planned. It also owns 105 lots at Rancho Mission Viejo, where it says homes should begin selling later this year.
Bauer, a competitive triathlete in his free time, likens his company's strategy to baseball.
"We want to hit for average—singles and doubles," he said. "We want to be prudent."
Investors appear to like TRI Pointe's game plan.
The company's stock has seen solid returns since it went public at the end of January, raising $232.7 million in its initial public offering.
TRI Pointe—whose first name stands for Think Renew Inspire—is the first homebuilder in the U.S. to go public since 2004.
The company now counts a market value of about $632 million, up about 12% from its IPO pricing. It ranks as OC's 26th-largest public company by market value, according to this week's Business Journal list (list starts on page 10; related stories throughout issue).
Prev Next