Universal Protection Adds N.C. Company to Fold
Friday, April 5, 2013
Share this article: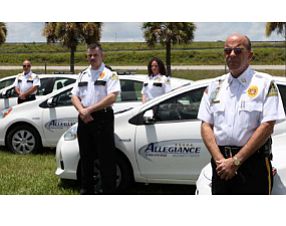 Santa Ana-based Universal Protection Service has acquired Allegiance Security Group in Morehead City, N.C. on undisclosed terms.
Universal Protection is a division of Universal Services of America. The parent company had about $662 million in revenue last year. It has about 23,000 employees companywide, with more than 2,000 in Orange County.
The latest buy is expected to help expand Universal's business into the Southeast and to new regions, including Puerto Rico and the U.S. Virgin Islands.
Allegiance has about 3,200 workers and more than 30 locations throughout the U.S., mostly concentrated in the Southeast. The company had been part of Miami-based private equity firm Trivest Partners LP for six years.
Trivest focuses on founder- and family-owned businesses, and typically invests in companies that have revenues ranging from $25 million to $250 million. Its current fund has about $325 million.