Cars Land, JWA Help Boost 2012 OC Visitor Count, Spending
Thursday, April 4, 2013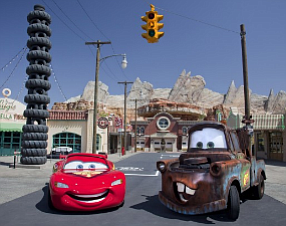 Orange County's tourism industry fared well in 2012, with increases in the number of visitors and spending stemming from the opening of new attractions at Disney California Adventure, expanded service at John Wayne Airport and an uptick in the meetings and conventions business.
Industry watchers say the trend is expected to continue this year.
The number of visitors to Orange County in 2012 increased 2.1% to 43.8 million, according to a new study from the Anaheim/Orange County Visitor & Convention Bureau and CIC Research Inc.
Overall visitor spending jumped 12% to $8.7 billion.
About a quarter of those dollars—$2.2 billion—went to lodging and other accommodations, which notched a 9% gain.
The Hilton Anaheim was one of the beneficiaries of that growth. The hotel held an all-day job fair on Monday with about 60 new positions in housekeeping, front office, communications and other departments expected to be filled.
Visitor spending on meals and beverages was the next largest category, also up 9%, to $2.1 billion.
The completion of Disney California Adventure's Cars Land helped spending in the amusement and attractions category notch the largest gain in 2012, up 29% to $1.9 billion.
Anaheim continued to account for the lion's share of visitors to the county and spending, helped by Disney and the city's convention center. Anaheim saw 18.5 million visitors and $5.2 billion in spending last year.