March Sales Down for OC Automakers
Tuesday, April 2, 2013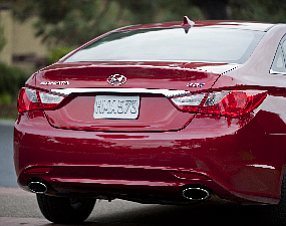 March vehicle sales continued to grow nationally while Orange County-based brands were generally down for the month.

Total U.S. vehicle sales rose 3.4% to 1.45 million vehicles, according to Woodcliff Lake, N.J.-based Autodata Corp.'s online industry researcher Motor Intelligence, remaining on pace to surpass 15 million vehicles this year.
Brea-based American Suzuki Motor Corp. saw sales rise 2.5% to 2,697 vehicles, according to a Motor Intelligence estimate.
The now dissolved company filed for bankruptcy late last year and has been winding down its U.S. auto sales, with most dealers agreeing to continue providing service and parts to Suzuki vehicle owners.
A new subsidiary—Suzuki Motor of America Inc., part of Japan-based Suzuki Motor Corp.—officially acquired and took over operations of the Motorcyles/ATV, Marine and Automotive parts and service divisions at the end of last month.
Larger OC-based automakers all saw a pullback of March sales compared with a year earlier.
Costa Mesa-based Hyundai Motor America Inc. reported sales down 2% to 68,306 vehicles in March.
Irvine-based Kia Motors America Inc.—which shares a parent with Hyundai in South Korea-based Hyundai Kia Automotive Group—sold 49,125 vehicles, for a 14.6% decline in March compared with a year earlier.
Irvine-based Mazda North American Operations reported March sales down 1.1% to 32,028 vehicles.
Vehicle sales for Cypress-based Mitsubishi Motors North America Inc. fell 26% to 5,286. The company attributed the decline to discontinued models. Sales were up 23% for the month, excluding the vehicles no longer in production.
Anaheim-based luxury hybrid automaker Fisker Automotive Inc. doesn't report monthly sales. Reports last week indicated that the troubled automaker has reportedly hired law firm Kirkland & Ellis to explore bankruptcy following an announcement late last week that it was instituting a one-week furlough of about 200 employees.