Tourism Rebound Prompts Job Fair at Hilton Anaheim
Monday, April 1, 2013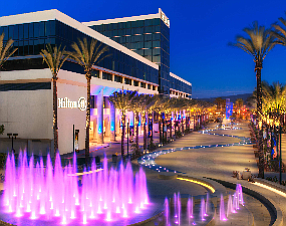 The rebound in tourism has the Hilton Anaheim looking to fill open positions at a job fair it is holding today.
Hilton Anaheim expects to add about 60 new positions in the front office as well as housekeeping, kitchen and guest services, among other departments, a spokesperson said.
The hotel currently employs more than 900 workers.
The job fair, which started at 10 a.m. and will run until 7 p.m., had already attracted more than 400 applicants by the early afternoon.
"Tourism has skyrocketed in our market and in order to continue to deliver outstanding service, we must focus on adding more dynamic individuals to our team," said Hilton Anaheim General Manager Shaun Robinson.
Orange County hotels saw revenue per available room—a key industry measure of hotels' financial performance— up 8.8% last year to $112.27, according to industry researcher PKF Consulting USA. Occupancy notched up 3.2% to 75.09%.
Hilton Anaheim is Orange County's largest hotel by room count, with a total of 1,572 rooms.