Ray Unfazed by Flood Waters, Government Regulators
TECHNOLOGY: WD LAWYER LOGS 200K AIR MILES IN 2 YEARS
Saturday, September 29, 2012
Share this article: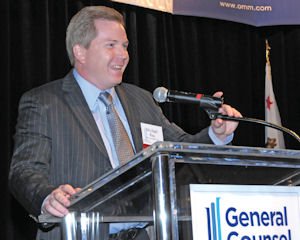 Western Digital Corp.'s top in-house lawyer Michael Ray finally has some time to reflect on his busy tenure to date.
The Irvine-based company recently concluded one of its most tumultuous fiscal years on and off the books, overcoming natural disasters, regulatory hurdles and global supply constraints to regain the title of world's largest disk-drive maker.
"It was an enormously challenging year, but having gone through it both as a member of the management team and legal team I think we learned a lot about ourselves," Ray said. "We accomplished an awful lot."
He accepted the Business Journal's General Counsel Award for public companies at the third annual dinner event Sept. 19 at the Hyatt Regency Irvine.
Roles, Deals
Ray has served as senior vice president, general counsel and secretary for the past two years. He oversees a $20 million annual budget and about 50 attorneys, administrators and support staff. And he has navigated the company through choppy legal waters on two major deals in the last year, including its priciest acquisition to date.
Western Digital closed its $4.8 billion cash-and-stock buy of San Jose-based Hitachi Global Storage Technologies LLC on March 7, ending a year of negotiations with U.S. and international regulators.
"That was a great day," Ray said. "[It] culminated an incredible amount of work by an awful lot of people."
Busy
Ray and his team of lawyers and support staff spent months wrangling with attorneys in the U.S., Europe and Asia to close the deal. He logged 200,000 air miles during the past two years, meeting with business and political leaders around the world.
Western Digital, in a nod to the European Union, agreed to sell off its business of 3.5-inch hard disk drives to Toshiba Corp. It also acquired Toshiba Storage Device Co. in Thailand as part of the deal.
Thai Floods
The Hitachi Global deal alone would have made for a busy year, but Ray and his legal team also had to contend with a natural disaster throughout the process.
Western Digital was among the hardest-hit manufacturers in Thailand when record floods swept over the region in October, forcing two of its plants there to shut down for months. The company typically ships more than half its disk drives from Thailand, where it employs some 37,000 people—more than a third of its total work force.
Hard disk drives store and allow access to data. Western Digital's disk drives go into computers, external storage devices, corporate networks and consumer electronics such as DVR players.
"It could be very distracting when you have many large challenges hit all at once," Ray said. "My colleagues throughout the company, Thailand in particular, demonstrated amazing focus."
Team Work
Ray established separate legal teams to focus on each major issue pressing the company: the Hitachi Global acquisition, the divestiture, the equity components of the deals and government relations.
Lost production caused the company to lose its title as the top seller of disk drive units in the December quarter to Cupertino rival Seagate Technology LLC.
A faster-than-expected recovery from disruptions in Thailand, and added sales from the Hitachi Global integration, helped Western Digital recapture the crown in unit shipments and narrowly surpass Seagate in total sales on its way to posting record earnings in the June quarter, the end of its fiscal year.
Thailand's historic floods cost Western Digital at least $214 million in damages and recovery efforts, and it appears the company may not recoup all those losses through insurance claims. It has recovered $21 million in insurance and other cost reimbursements, according to a recent regulatory filing.
It looks as though Ray might be bracing for another legal fight.