TECHNOLOGY: TOSHIBA'S HARSHMAN COMBINES SKILL SETS
Lawyer Engineers TV Unit's Integration Into Irvine
Saturday, September 29, 2012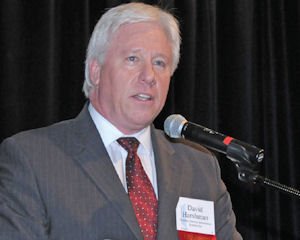 David Harshman couldn't shed his industrial-engineer self, even after he got into law.
He has melded his skills as an engineer with his knowledge of the law for more than 30 years, spending the past 20 years at Toshiba America Information Systems Inc. in Irvine.
"What drew me to Toshiba was that I was very interested in being part of a company that was at the cutting edge of technology and development," Harshman told the Business Journal. "I thought I could make a good contribution to Toshiba because of my knowledge in the technology industry."
Toshiba America Information Systems is a subsidiary of Tokyo-based Toshiba Corp. The company does design and engineering for consumer electronics, including laptop computers and televisions.
GC Award
Harshman received the General Counsel Award in the Private Company category at the Business Journal's third annual awards event held on Sept. 19 at the Hyatt Regency Irvine.
Integrating Toshiba's television unit with other Irvine operations in 2010 was one of the biggest tasks Harshman had to quarterback. The TV business had been part of Toshiba America Consumer Products LLC in Wayne, N.J.
It was a time of "readjusting, a revising of [Toshiba's] strategy," said Harshman, who just prior to the integration was promoted to vice president and general counsel of the company from assistant general counsel.
Integration
"The integration of our TV business with the laptop-and-tablet business was a big endeavor," Harshman said. "It kind of makes sense, because now you have smart TVs, where you can get on the Internet directly through TV. All the streams seem to be coming together—TV, laptops and other devices."
Work for the legal department tends to mount up in such a companywide move, he added.
"We had to absorb a huge network of dealers and retailers of televisions," Harshman said. "We managed the contracts and service capabilities. We had to make sure we integrate all of the necessary compliance aspects, including warranty and service and advertising. We review all the advertisements and make sure all the requirements are met. We also need to take over all their pending litigations."
Toshiba America Information Systems has roughly 800 employees overall. Its legal department runs on six lawyers and a paralegal, with help from other firms and expatriates from Tokyo.
It wasn't long ago when the legal team was struggling with a lot on its plate after key individuals died unexpectedly, Harshman said.
Prev Next