TECHNOLOGY: SUPERVISED DOZENS OF DEFENSES FOR VIZIO
Huang Shines Amid Patent Wars, Product Rollouts
Saturday, September 29, 2012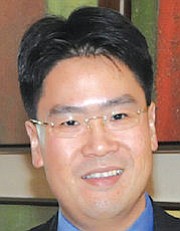 Jerry Huang is a patent warrior.
As vice president and general counsel of Irvine-based flat TV seller Vizio Inc., he serves as brand defender as he goes to battle over Vizio's patented technology.
Huang received the General Counsel Award in the Rising Star category at the Business Journal's third annual awards event, held Sept. 19 at the Hyatt Regency Irvine.
Vizio, which also sells other electronics, is the fifth-largest private company in Orange County. It was founded in 2002 and has 185 OC employees and 400 companywide. The Business Journal estimated its 2011 revenue at $3 billion.
Huang joined Vizio in 2009 as the company faced dozens of patent infringement lawsuits from big-name competitors. Within a year, Huang had successfully settled or fought off several of the suits, which over the years have included showdowns with Seoul, Korea-based LG Electronics Inc., Funai Electric Co. in Japan and Orange-based Westinghouse Digital LLC.
The issues and challenges he faces are broad and deep—which pleases Huang.
"I'm confronted with practical business challenges and am required to come up with real-world solutions, which I appreciate," Huang said. "At a law firm, you're focused on very discreet, specific, narrow objectives. So your understanding of business operations within different industries is very limited."
Fast Growth
Vizio has experienced rapid growth during his tenure. Vizio's revenue grew 50%, from 2009 to 2011, to $3 billion. This allowed the company the ability to expand internationally and diversify its product offerings beyond TVs to areas including the desktop and laptop computer market earlier this year.
Huang hired and trained a legal team to support the growing company. He developed detailed processes across all business channels to help the company achieve market dominance as the top-selling company for flat TVs in North America.
Huang was born and raised in Taiwan. He came to the U.S. when he was 13 years old and spent a few years in the Midwest and Northern California. He and his family moved to Southern California, where he attended University of California, Los Angeles, for his undergraduate degree and Southwestern University in Los Angeles for law school.
But law wasn't initially what he envisioned for a career.
"I wanted to work in economics and do international policy, contributing on an international level as an Asian-American," Huang said.
Later, after passing the bar exam, he reconsidered and opted for a law career.
"It's great that it worked out the way it did, because I'm able to bring a diverse background to my position that's part of an integrated global economy," Huang said.
Prev Next