REAL ESTATE: DEVELOPER SEEKS MORE UNITS, CERTAINTY ON PARK LAND
FivePoint Draws Line on Great Park Deal
Sunday, September 2, 2012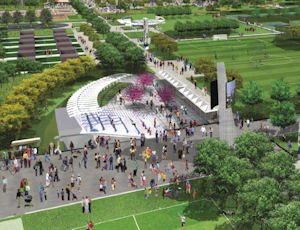 "I'm selling homes here next year, and I want to be able to show people what they'll have (at the Great Park)," Haddad said.
FivePoint announced the plan last week, and said the initial $211 million would pay for construction of Great Park facilities and amenities over the next few years.
"It's a huge number, but it's a commitment we're willing to make," Haddad said.
Among the features that would go forward under the new proposal is a $124 million sports park, which would be part of a larger, Olympic-style sports village that's envisioned to include restaurants, shops and a possible hotel. FivePoint also would pay for a new 178-acre wildlife corridor, 227 acres of trails and fields, and a 258-acre "Cultural Terrace" that could potentially hold a man-made lake.
The largest difference between the latest plan and older proposals is the elimination of a man-made canyon, according to Haddad.
The 2.5-mile man-made canyon was a centerpiece of architect Ken Smith's initial plan for the Great Park, which was approved in 2007.
Reports have put the price tag for the initial design for the park at $50 million.
FivePoint, its partners and investors have already committed close to $1.4 billion in infrastructure and cash for the Great Park site since buying the property in 2005, according to Haddad. The company gave the land for the park itself to the city as part of the transaction with the Department of the Navy.
FivePoint now is looking to get the city to take any sale of park land off the table and sign off on plans—which go back to a proposal from 2006—to boost the number of homes that could be built on its portion of the surrounding land.
Initial plans called for about 5,000 homes and 1.2 million square feet of shops, offices and other commercial development to be built in the initial phase of the Great Park Neighborhoods.
10,700
The developer now would like the ability to build 10,700 homes on its land, including some higher-density projects near the Irvine Metrolink station, where Haddad said he envisions a downtown feel.
"It will help bring some life to the park," Haddad said.
The project's revised housing plans remain far less dense than apartment projects going up around the Irvine Spectrum, Haddad said.
FivePoint has no interest in building apartments on its land, he said, despite the recent boom in multi-family development in Irvine of late.