Downtown Santa Ana Makes New Mix
Sunday, October 28, 2012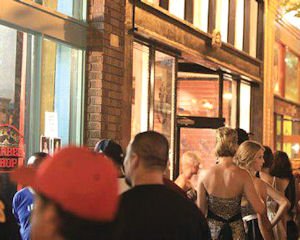 The newcomers range from the rock 'n' roll-themed American Barber Shop to trendy restaurants such as Playground, which lists kurobuta pork cheek confit on its menu.
The new tenants mix with merchants that have been selling general merchandise and specialty shops for quinceañera dresses, handmade party favors and other goods since the 1970s.
The mix is working by a couple of key measures.
The mayor reported in a State of the City address that taxable sales rose a combined 6% last year for the 500 businesses spread over the 45 blocks of the business improvement district.
Rents also are going up, with many of the new tenants paying $2 per square foot or more. Some of S & A Management's older tenants pay as little as 50 cents per square foot for month-to-month leases.
Monthly Orange County average retail rents were $2.27 a square foot, according to commercial real estate brokerage CBRE Group Inc.
"I think we're at that point where we're just about to explode," Ryan Chase said. "But there's a few more things that need to happen."
At the top of that list is addressing what to do with a handful of longer-standing merchants who must decide whether they can afford rent hikes.
Groundwork
Chase and his father started laying the groundwork for higher rents three years ago. They visited with their tenants to discuss the changes that had already begun to take hold in downtown. They offered tips to merchants who might want to stay in the area and appeal to more than Latino shoppers: clearer or bilingual signage, night-time hours.
That came in tandem with workshops offered by the nonprofit Downtown Inc., which runs the business improvement district, and the city of Santa Ana to offer area merchants tips on how to get through the recession.
Some critics continue to paint the Chases as a villain. The business improvement district also has been a hot-button issue, drawing complaints from some that the funds it raises are not spent evenly.
Turning back is not an option despite the sometimes-heated opposition, according to Ryan Chase.
"We're in a position where we have to do something, and now we're starting to get a lot of interest from restaurants, hip retailers and other cool concepts," he said. "Are we supposed to turn them down to keep a tenant that's not paying anywhere near even half the rent?"
Chase admits the answer to that question is not a simple one.