Downtown Santa Ana Makes New Mix
Sunday, October 28, 2012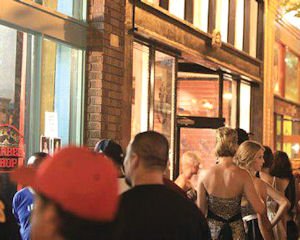 Dusk falls, and the scene changes along 4th Street in downtown Santa Ana.
Fruit cart vendors and quinceañera shop workers—who a few hours earlier had beckoned pedestrians to browse their wares—give way to students and hipsters on their way to trendy restaurants and lounges.
Night and day?
Not quite—but change has a foothold in downtown, where Latino merchants and shoppers who have defined the retail landscape for decades are seeing new businesses helping draw a different crowd.
It's a shift driven in large part by a major property owner who's put $5 million into renovations along 4th Street, the heart of retail and entertainment for downtown.
"We are close to a critical mass … we're not at a critical mass," said Ryan Chase, whose father runs Costa Mesa-based S & A Management LLC. S & A manages about 235,000 square feet of retail and office space downtown.
An entity called Fiesta Marketplace Partners owns the majority of that portfolio—which includes about 145,000 square feet known as East End. Ryan's father, Irv Chase, is co-owner of Fiesta.
"A critical mass is where someone can come and spend the whole day there and see a concert and get lunch and shop," Chase said. "We're not there yet."
A year ago Fiesta Marketplace Partners took a big step toward its vision of downtown with the reopening of the century-old Yost Theater. It also changed the name of its group of retail properties along 4th Street from Fiesta Marketplace to East End—de-emphasizing the Latino flavor of the area.
The two moves were seen as twin catalysts for the area's revitalization.
They also stirred controversy, with some critics claiming the changes were aimed at driving out Latino merchants and shoppers.
Irv Chase offered a different view.
"The customer used to be newly arrived immigrants and the first generation that shopped on 4th Street," he told the Business Journal then. "Well, now everybody wants that customer and there are bilingual graphics and products in stores and malls, so there's no reason for them to shop downtown anymore."
New Additions
Downtown's makeover—which took its first step in 2009, when property owners and city officials established a business improvement district funded by property owners in the area—has continued in the face of controversy. The past year has seen seven new tenants open their doors downtown, bringing the new wave of tenants to more than 40 new businesses in the last three years.
Prev Next