Downtown Santa Ana Makes New Mix
Sunday, October 28, 2012
Share this article: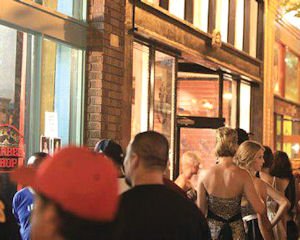 Dusk falls, and the scene changes along 4th Street in downtown Santa Ana.
Fruit cart vendors and quinceañera shop workers—who a few hours earlier had beckoned pedestrians to browse their wares—give way to students and hipsters on their way to trendy restaurants and lounges.
Night and day?
Not quite—but change has a foothold in downtown, where Latino merchants and shoppers who have defined the retail landscape for decades are seeing new businesses helping draw a different crowd.
It's a shift driven in large part by a major property owner who's put $5 million into renovations along 4th Street, the heart of retail and entertainment for downtown.
"We are close to a critical mass … we're not at a critical mass," said Ryan Chase, whose father runs Costa Mesa-based S & A Management LLC. S & A manages about 235,000 square feet of retail and office space downtown.
An entity called Fiesta Marketplace Partners owns the majority of that portfolio—which includes about 145,000 square feet known as East End. Ryan's father, Irv Chase, is co-owner of Fiesta.
"A critical mass is where someone can come and spend the whole day there and see a concert and get lunch and shop," Chase said. "We're not there yet."
A year ago Fiesta Marketplace Partners took a big step toward its vision of downtown with the reopening of the century-old Yost Theater. It also changed the name of its group of retail properties along 4th Street from Fiesta Marketplace to East End—de-emphasizing the Latino flavor of the area.
The two moves were seen as twin catalysts for the area's revitalization.
They also stirred controversy, with some critics claiming the changes were aimed at driving out Latino merchants and shoppers.
Irv Chase offered a different view.
"The customer used to be newly arrived immigrants and the first generation that shopped on 4th Street," he told the Business Journal then. "Well, now everybody wants that customer and there are bilingual graphics and products in stores and malls, so there's no reason for them to shop downtown anymore."
New Additions
Downtown's makeover—which took its first step in 2009, when property owners and city officials established a business improvement district funded by property owners in the area—has continued in the face of controversy. The past year has seen seven new tenants open their doors downtown, bringing the new wave of tenants to more than 40 new businesses in the last three years.
The newcomers range from the rock 'n' roll-themed American Barber Shop to trendy restaurants such as Playground, which lists kurobuta pork cheek confit on its menu.
The new tenants mix with merchants that have been selling general merchandise and specialty shops for quinceañera dresses, handmade party favors and other goods since the 1970s.
The mix is working by a couple of key measures.
The mayor reported in a State of the City address that taxable sales rose a combined 6% last year for the 500 businesses spread over the 45 blocks of the business improvement district.
Rents also are going up, with many of the new tenants paying $2 per square foot or more. Some of S & A Management's older tenants pay as little as 50 cents per square foot for month-to-month leases.
Monthly Orange County average retail rents were $2.27 a square foot, according to commercial real estate brokerage CBRE Group Inc.
"I think we're at that point where we're just about to explode," Ryan Chase said. "But there's a few more things that need to happen."
At the top of that list is addressing what to do with a handful of longer-standing merchants who must decide whether they can afford rent hikes.
Groundwork
Chase and his father started laying the groundwork for higher rents three years ago. They visited with their tenants to discuss the changes that had already begun to take hold in downtown. They offered tips to merchants who might want to stay in the area and appeal to more than Latino shoppers: clearer or bilingual signage, night-time hours.
That came in tandem with workshops offered by the nonprofit Downtown Inc., which runs the business improvement district, and the city of Santa Ana to offer area merchants tips on how to get through the recession.
Some critics continue to paint the Chases as a villain. The business improvement district also has been a hot-button issue, drawing complaints from some that the funds it raises are not spent evenly.
Turning back is not an option despite the sometimes-heated opposition, according to Ryan Chase.
"We're in a position where we have to do something, and now we're starting to get a lot of interest from restaurants, hip retailers and other cool concepts," he said. "Are we supposed to turn them down to keep a tenant that's not paying anywhere near even half the rent?"
Chase admits the answer to that question is not a simple one.
"My dad worked through high school, worked through college. So he knows what it is to come up and work hard, and I think he sees his parents in a lot of these people, so it's really hard for him," Chase said. "We've tried to be as fair and as compassionate as we could, and at the end of the day, quite frankly, it ended up hurting us."

"Best Downtown"
Downtown received a nod earlier this month from OC Weekly, which dubbed it Orange County's best downtown for what the area is today: a "perfect" mix of both the old and the new.
The area's new vibe helped sway Bruce Marsh and his wife Naseem Aflakian to come downtown. The couple is set to open the Little Sparrow Café by mid-December.
"It has a lot of great historical aspects there and good old bones that make for a very authentic place," Marsh said.
The 1920s building is currently being restored and turned into a retro cafe that will open at 7 a.m., serving baked goods for breakfast and sandwiches for lunch. The restaurant will reopen for dinner with a full bar.
"We were very encouraged by all the hometown businesses," Marsh said. "There's just a general sense from everybody that there's something going on down there."
Little Sparrow is seen as another move of the dial for downtown by offering breakfast, Downtown Inc. Executive Director Vicky Baxter said. Gypsy Den and Subway are the only two restaurants currently serving breakfast, she said.
Little Sparrow will be another option for other visitors who rarely ventured there only a few years ago: jurors, lawyers, judges and civic center employees who work a couple blocks away at the Santa Ana Civic Center.
"We didn't see that at all in 2009," Baxter said of the civic center employees. "We might as well have been a mile from the civic center."
A free trolley, running from 11 a.m. to 2 p.m. during summer 2011, shuttled federal and state employees to downtown. It's no longer in place, but they continue coming.
"Now, we don't have the trolley. They still come, but they walk and that was the goal for them to realize we're not a mile away; we're two to three blocks away," Baxter said. "They didn't understand how close downtown was, and at the time we didn't have a lot of restaurants."
The area also is attracting more Asians and Persians from other OC cities, Baxter said.
"There's a lot of interest from Irvine, and we don't market to South County, but the word has gotten out," Baxter said. "North County and South County are starting to realize this is a hub for a lot of things, and that's creating diversity."
Quinceañera Connection
Some longtime downtown tenants laud the changes even if they don't see more business coming their way.

Teresa Saldivar, who owns Teresa's Jewelers, left her car in downtown on a recent Friday to attend a nearby event. She came back around 10 p.m. to what she described as a bustling scene.

"The parking lot was booming. Chapter One was booming," Saldivar said. "I don't remember ever seeing anything like that."
Saldivar still relies mainly on the Latino population—on relationships that have been established over generations—for new customers.
"The parents are now sending their children, and their children are sending their children," Saldivar said. "I'm servicing the grandkids now."
Business at the store, which celebrates its 27th year this month, has remained slow amid the spotty economic recovery and the rising cost of gold in recent years. Business is down about 30% from prerecession days, Saldivar said, and "we're not doing the numbers we used to."
Plans to boost business include designs for a special handbag to sell for quinceañeras. That follows a hit Saldivar came up with a couple of years ago: roses dipped in 24-carat gold and etched with the name of the girl and date of the coming-of-age event.
New Association
They go for $85 and have been hot sellers.
Saldivar and others who sell quinceañera-related merchandise downtown recently took steps to form the Bridal and Quinceañera Association, expected to launch sometime in the first quarter.
"The community has never really seen something like this, so the hardest thing is to get the education out about why it's important," said Nydia Paredes, owner of the Princess bridal and quinceañera shop on 4th Street and association chair. "A lot of these businesses have been here for years. They're sole proprietors and not so business savvy, so that's my hardest obstacle … getting the education out there and getting people to understand the value (of the association)."
The association's goals are to form a set of best practices and guidelines for area vendors and customers, in addition to marketing.
The group so far counts eight businesses. Paredes would like to see more.
"The dynamics of the area has completely changed, and that's the thing people are having the hardest time with," Paredes said. "People just need to move forward, and some people haven't really tried. There are new stores in the area. There's a night life."
Princess itself now offers more modern dress designs and has expanded its stock of dress material choices. Paredes' shop is currently selling between 10 and 17 dresses each month, ranging from catalogue orders to custom designs, with prices starting at around $500.
While not everyone is sold on downtown's direction or the look—whatever that maybe when all the pieces settle—Paredes sees opportunities for all of the area's businesses.
"This is such an amazing time to really be here," Paredes said. "I just feel there's been a boom of something. What that boom is going to explode into, I'm not sure, but it's an exciting time for all of the merchants down here, and I wish they could all understand that."