DEVELOPMENT: PLANNERS SEE CITY OF 300,000+
Irvine Won't Max Out For Decades
Saturday, October 13, 2012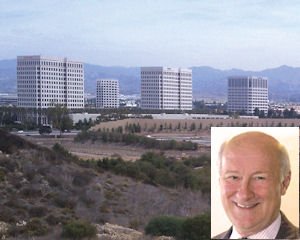 The latest tweak in Irvine—as is the case for much of OC—is an emphasis on building for-rent housing.
"Over the next five years, much of the new residential development will be higher density, particularly large apartment and condominium project developments," the city said in its 2012 Strategic Business Plan.
The city expects dwelling units in Irvine to increase by a rate of about 2% over each of the next five years, driven by apartment and condo development.
Those multifamily projects should have a smaller impact on Irvine's population growth than if a similar number of single-family homes were built.
Higher Density
Higher-density apartments average about 1.3 residents per unit, while single-family homes typically average about three residents per unit, based on city projections.
The recent emphasis on high-density development requires the city to make a number of adjustments, said Sean Joyce, Irvine's city manager.
Equipment for firefighters needs to be upgraded to account for taller and denser buildings. Community services require adjustments to account for more multifamily projects, which, for example, are likely to include their share of older residents who live on their own, Joyce said.
Safety Features
The city also works with developers and the police department to ensure that new multifamily housing projects have lines-of-sight and other features that foster resident safety, Joyce said.
"It's a different process," Joyce said.
Irvine Co. is the largest apartment owner in OC, with dozens of complexes here. It now has more than 4,000 units under construction or in the works in Irvine.
Earlier this year it opened Cypress Village Apartment Homes, a new complex in northeast Irvine that is set to include 1,677 apartments when it is completed. Next year will see the opening of Los Olivos, a 1,750-unit project being built in the Spectrum by Irvine Co. near the site of the former Wild Rivers Waterpark.
2014 should see the opening of a 980-unit Irvine Co. complex in the Park Place campus near John Wayne Airport, one of several large projects being developed by a variety of builders in the Irvine Business Complex, which is currently zoned to hold 15,000 residential units.
The biggest variable in Irvine's growth over the next decade or so is likely to be the development of a large portion of the former El Toro Marine base into the 3,700-acre Great Park Neighborhoods.
Current plans call for massive development surrounding the Orange County Great Park—which is seeing its first 726 homes go up along Portola Parkway—to hold about 5,000 homes.
The project's Aliso Viejo-based development manager, FivePoint Communities Management Inc., is negotiating with the city to allow it to build 10,700 homes on its land.
Great Park
The city's current strategic plan and its projections on population growth are based on what the city has now approved for the Great Park Neighborhoods, according to Joyce.
"We don't get out ahead (of the city council) on discretionary land use," Joyce said.
Annual strategic plans would be adjusted in the future if the city approves more homes around the Great Park, he said.
Irvine Co.'s LeBlanc said the company isn't worried about other Irvine developments that it doesn't control resulting in over-building in the masterplanned city.
"The city has become the steward of that (master) plan," LeBlanc said.
LeBlanc said he expects the city to provide the same manner of review for other developers as it does for Irvine Co. projects.
Prev Next