REAL ESTATE: 6.2-ACRE SITE ACROSS FROM ANGEL STADIUM
Irvine Company Buys Platinum Triangle Land for Apartments
Saturday, November 24, 2012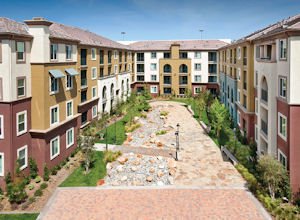 Outside OC, it is building apartments in Silicon Valley and has been eyed as a potential apartment builder at the Playa Vista project in Westside Los Angeles.
It currently owns 116 complexes across California and ranks as the country's 28th-largest apartment owner in the U.S., with almost 45,000 units in its portfolio, according to trade publication Multifamily Executive magazine.
The new Platinum Triangle development proposed by Irvine Co. will run four stories tall, with units ranging from about 600 square feet to 1,300 square feet, according to city filings.
The architecture of the project is likely to mirror much of that seen at the existing Gateway project, according to the developer's plans.
Irvine Co.'s latest project in the Platinum Triangle is one of several apartment developments proposed along a small stretch of Orangewood Avenue.
Stadium Business Park
The three-building Stadium Business Park, located a few buildings down from Irvine Co.'s newest buy at 2210 E. Orangewood, is in escrow for a sale, according to brokerage data.
The 3.3-acre site was being marketed for sale at about $9.4 million, with redevelopment a possibility for any new owner of the property, according to marketing materials for the property.
A 525-unit apartment complex is also being planned by the Newport Beach office of Miami-based LNR Property LLC across from Irvine Co.'s site.
The one-time industrial site is situated on a 12.5-acre tract at 2015 E. Orangewood. It had initially been expected to hold 878 units for sale—a combination of high-rise condo towers and midrise townhouses—under the A-Town Stadium name.
Prev Next