REAL ESTATE: INNOVATIONS INCLUDE SHARED DRIVEWAYS
Irvine Co. to Add Houses to Cypress Village
Saturday, November 24, 2012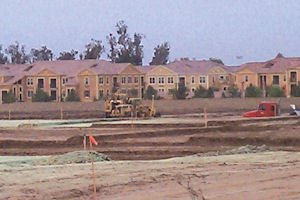 Irvine Company is planning to break ground by early next year on the first batch of for-sale homes at its Cypress Village community in North Irvine.
The Newport Beach-based developer filed plans with the city earlier this month to build 329 homes and condominiums on a nearly 50-acre portion of land it owns just off Trabuco Road, next to the Santa Ana (I-5) Freeway.
The land—one of several undeveloped tracts that Irvine Co. owns between Jeffrey Road and Sand Canyon Avenue—sits next to the company's Cypress Village Apartment Homes, a 1,677-unit rental development that opened up earlier this year.
Sales at the 329-home project—which looks to incorporate a few relatively unique design features—are expected to begin by April.
Early-stage ground work at the site is under way.
The developer said its Irvine Pacific building division will handle the initial phase of construction at the site. Other builders are expected to join Irvine Pacific as Cypress Village is built out in later stages.
If Irvine Co. had opted to sell the land, it would likely have seen close to $100 million in land sales, based on other recent land transactions in Irvine.
The new homes are the latest for-sale project slated to go up on the Irvine Ranch, the fourth best-selling masterplanned community in the country last year with 764 sales, according to Irvine-based John Burns Real Estate Consulting LLC. Irvine Co. has seen more than 1,200 home sales on its land this year, according to company officials.
North Irvine
Much of the company's sales activity is centered in North Irvine, where Irvine Co. is moving ahead with homebuilding in its Stonegate and Portola Springs communities. Construction also continues to move ahead at the company's Laguna Altura development off of Laguna Canyon Road.
Stonegate and Laguna Altura—which both opened last year and are largely being built by Irvine Pacific—are each more than 50% built out now.
Documents filed with the Irvine Planning Commission recently show plans for a trio of different for-sale housing types and several design tweaks in the proposed Cypress Village development.
The most unique of the proposed product offerings appears to be a so-called "motorcourt" design, where up to four detached homes would be clustered around a privately shared, extended driveway. Some 104 homes in the development—ranging from about 2,200 square feet to 2,600 square feet—are planned in the design, according to city filings.
"While the motorcourt design is not new, the idea of selling this housing type as a simple fee product, as opposed to condominium unit, is a relatively new concept in the city," Irvine Co. said in its application to the city for the plans.
Prev Next