Second Generation Paves Way Forward for Ben's Asphalt Inc.
PERSONALITY DIFFERENCES POSITIVE FOR SKEFFINGTONS
Saturday, November 17, 2012
Share this article: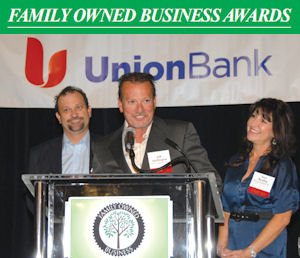 Personality differences are pluses for the Skeffington brothers, who own Ben's Asphalt Inc., a Santa Ana-based provider of asphalt paving, striping, repairs and other maintenance services.
"What makes our business effective is that my brother and I have such different personalities," said John Skeffington, the younger brother and chief financial officer. "My weakness is his strength, and vice versa. We make a good complement to each other. He's more of the visionary, the more creative one. He likes to open up new opportunities. I keep him grounded, so to speak."
The company bears the name of their father, who founded the business in 1961 in Laguna Beach. He came to California from Boston three years earlier, after a tour in the Navy. He worked awhile as a delivery driver for a bakery and then struck out on his own in the asphalt business, initially "just doing residential driveways."
Bill Skeffington, the older brother and chief executive of the company, started working with his father in the early years of the business, riding along in his pickup truck and sweeping driveways. He officially joined the company after graduating from high school in the early 1980s.
Award
Ben's Asphalt steadily grew as it shifted from seeking work from homeowners to catering to "small commercial projects in the local area," such as apartment complexes and shopping center parking lots, according to the younger Skeffington, who came on board after earning his bachelor's degree in business administration in 1992.
Teri Braden, a sister, left the legal field a few years later to work with her family as vice president of human resources.
The company now has about 150 employees total, with about 120 in Orange County and the rest in Riverside County. Its annual revenue reaches about $30 million.
Ben's Asphalt was honored in the medium-size company category at the 13th annual Family Owned Business Awards presented by the Business Journal and California State University's Center for Family Business on Nov. 7 at the Hyatt Regency Irvine.
"We thought it was fitting that we'd receive this award on the 10th anniversary of our dad's passing today," said John Skeffington, who accepted the award.
Business for Ben's Asphalt has mirrored economic cycles over the past 51 years. The most recent recession has left the company's business makeup 80% maintenance and 20% new construction. The ratio had been roughly flipped—with double the revenue—prior to the recent recession.
The recovery and other changes have improvements coming slowly but steadily.
"I don't see us getting back to the days around the year 2000, where new construction was crazy," Skeffington said. "Something new was going up everywhere you looked. Now … there's a lot of inventory that need to be filled before things get built. There's less of a demand there, not just because of inventory, but also with the technology now, there's less demand for brick-and-mortar buildings for businesses."
Maintenance work is keeping Ben's Asphalt busy. The repair segment includes "whole rehabs of existing shopping centers," according to Skeffington.
Recent work has included projects for Knott's Berry Farm, the OC Fairgrounds and the Westminster Mall.
The company has done new construction work for the Angel Stadium, the Irvine Spectrum shopping center and corporate headquarters for Foothill Ranch-based Oakley Inc. Diversifying the services it offers also has helped Ben's Asphalt gain more business over the years.
"In 2002, we got into the recycling business, crushing our own concrete asphalt, making it into recycled material," Skeffington said. "We have continued to expand vertically, tying [our services] all in together to complement each other."
Transportation Business
The company also has its own transportation business, dubbed Ben's Express.
"It was an effort to provide better delivery and service to customers, make us more efficient," Skeffington said. "It allowed us to be able to transport the material without having to rely on a third party. Also, in 2009 we got into the grinding business and added a division to complement our recycling division to where we can perform pulverization of asphalt, not relying on a subcontractor."
Skeffington said Ben's Asphalt is anticipating demand for maintenance work to continue into next year.
"We're still in the recovery stages of the economy," he said. "A lot of business owners and property owners have held back on maintaining existing facilities. Roads throughout California are in tough shape. There's so much of a budget crisis in the state, so much of a need for repairs. It's going to take some time to get caught up."
The company helps a number of local charities, including the Cystic Fibrosis Foundation, the Orangewood Children's Foundation and Susan G. Komen for the Cure.
The family's next project is in a different line of business. They are planning a grand reopening of Rockwell's Bakery in Villa Park—a sweet tie to the bakery delivery days of their father.
"It's funny, my dad started out in the bakery business, and my brother purchased a bakery this August," the younger Skeffington said. "He's been able to pull it off in such a short period of time of working with Villa Park. That speaks to the relationships he's established with the local community."