Nailed It!
NGUYEN SIBLINGS MAKE GOOD ON PARENTS' VISION
Saturday, November 17, 2012
Share this article: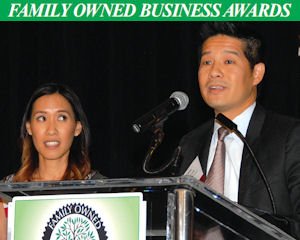 Minh Nguyen brought a vision for his family and fellow immigrants from Vietnam when he arrived in Orange County after the fall of Saigon in 1975.
"He saw an opportunity for immigrants lacking language skills or startup capital to learn a trade and earn a good wage in the nail and salon industry," said Tam Nguyen, his son.
The elder Nguyen and his wife, Kien, opened a nail salon in 1977. They started a beauty school eight years later.
Garden Grove-based Advance Beauty College Inc. has since grown from three employees and 20 students to 37 employees and 500 students in a typical term. It has turned out about 25,000 graduates and helped feed an entrepreneurial pipeline—about 80% of nail salons in California are owned by Vietnamese-Americans, according to Tam Nguyen, a medical school graduate who runs the business with his sister, Linh Nguyen.
The school offers nail, cosmetology, esthetics and massage therapy programs. It is among the largest nail programs in the U.S., where the industry brings in about $6 billion per year, according to trade magazine Nails.

Advance Beauty College was honored in the Small Business category at the 13th annual Family Owned Business Awards hosted by the Business Journal and California State University, Fullerton's Center for Family Business on Nov. 7 at the Hyatt Regency Irvine.
The company's standing as a leader in the field owes in part to its location in Little Saigon, the largest Vietnamese-American enclave outside of Vietnam that covers parts of Garden Grove, Westminster and other OC cities.
Competition
Advance competes with about 10 other schools offering similar programs that cater to Vietnamese-American students. It has an edge over a lot of the competition due to its accreditation from state and industry regulators, distinctions that allow the school to offer financial aid for programs that cost students between $500 and $7,000. It also operates as a partnering school by using name-brand salon products.
Advance is eyeing growth with the addition of classes taught in English, a program that started last year with the acquisition of Athena College of Beauty in Laguna Hills.
The Nguyens hope to expand beyond the Vietnamese-American community by acquiring other beauty schools or opening new locations in the future. They are especially interested in carving out a niche with Latinos in Orange County, with instruction in Spanish part of a five-year growth plan.
"We want to have Spanish-language programs that cater to Hispanic immigrants," Tam Nguyen said.
Linh Nguyen said a commitment to giving back to the community also has been a key to the company's growth. That includes donated services and sponsorships at community events, and free services to beauty pageant contestants, Girl Scouts and other community groups.
"We're huge on community involvement," said Linh Nguyen, who links such efforts directly back to the business.
"We have an 80 to 90% referral rate," she said.
Tam Nguyen is active with several industry and community groups. He serves on a handful of boards, including Cal State Fullerton's Alumni Association and the Mihaylo College of Business and Economics' Executive Council. He has also served as president of the Vietnamese American Chamber of Commerce since 2009.
Family ties count the most with the Nguyens.
"We wouldn't be nearly as close today otherwise," Linh Nguyen said.
Both she and her brother are married and each have three children.
"Our kids stop by often, and we wouldn't mind having them join us in business someday," Tam Nguyen said.
Parents
Their own parents had different ideas for their son.
"My mom was disappointed when I chose to get my MBA instead of pursue my medical residency, but business is where I belong," Tam Nguyen said. "Society gets caught up in titles and salaries, but there's something called happiness and doing what you love."
Tam said the decision to walk away from medicine was worth it because he still helps people—but on a larger scale.
"I get to help thousands of people get an education versus one person at a time as a doctor," he said.
The Nguyen siblings credit their parents for teaching them principles of hard work and passion for the business.
The transition from parent to child was a difficult one, Tam Nguyen said, because the business was "like their third baby."
The Nguyens are happy to have the support and approval of their parents.
"They didn't know what to expect, but now our parents will say to others that we run the business even better than they did," he said (see related OC Insider item, page 3).