NGUYEN SIBLINGS MAKE GOOD ON PARENTS' VISION
Nailed It!
Saturday, November 17, 2012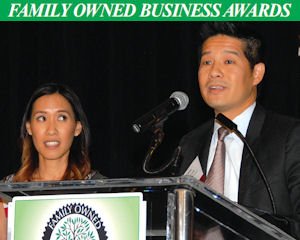 Minh Nguyen brought a vision for his family and fellow immigrants from Vietnam when he arrived in Orange County after the fall of Saigon in 1975.
"He saw an opportunity for immigrants lacking language skills or startup capital to learn a trade and earn a good wage in the nail and salon industry," said Tam Nguyen, his son.
The elder Nguyen and his wife, Kien, opened a nail salon in 1977. They started a beauty school eight years later.
Garden Grove-based Advance Beauty College Inc. has since grown from three employees and 20 students to 37 employees and 500 students in a typical term. It has turned out about 25,000 graduates and helped feed an entrepreneurial pipeline—about 80% of nail salons in California are owned by Vietnamese-Americans, according to Tam Nguyen, a medical school graduate who runs the business with his sister, Linh Nguyen.
The school offers nail, cosmetology, esthetics and massage therapy programs. It is among the largest nail programs in the U.S., where the industry brings in about $6 billion per year, according to trade magazine Nails.

Advance Beauty College was honored in the Small Business category at the 13th annual Family Owned Business Awards hosted by the Business Journal and California State University, Fullerton's Center for Family Business on Nov. 7 at the Hyatt Regency Irvine.
The company's standing as a leader in the field owes in part to its location in Little Saigon, the largest Vietnamese-American enclave outside of Vietnam that covers parts of Garden Grove, Westminster and other OC cities.
Competition
Advance competes with about 10 other schools offering similar programs that cater to Vietnamese-American students. It has an edge over a lot of the competition due to its accreditation from state and industry regulators, distinctions that allow the school to offer financial aid for programs that cost students between $500 and $7,000. It also operates as a partnering school by using name-brand salon products.
Advance is eyeing growth with the addition of classes taught in English, a program that started last year with the acquisition of Athena College of Beauty in Laguna Hills.
The Nguyens hope to expand beyond the Vietnamese-American community by acquiring other beauty schools or opening new locations in the future. They are especially interested in carving out a niche with Latinos in Orange County, with instruction in Spanish part of a five-year growth plan.
"We want to have Spanish-language programs that cater to Hispanic immigrants," Tam Nguyen said.
Prev Next