CULVER DRIVE RETAIL CENTER REFLECTS UPSCALE MELTING POT
Irvine's New Heritage
Saturday, May 19, 2012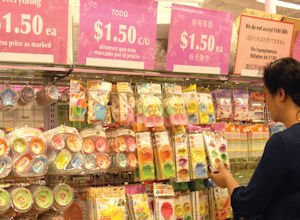 Signs in English and Spanish at the newly opened Daiso Japanese discount store offer a clear sign of how the mix of customers and tenants is changing at Heritage Plaza in Irvine.
There's a blur on the retail landscape, where ethnic supermarkets and retailers are growing as the populations here and throughout the region and nation grow more diverse. Mainstream stores are responding to the new reality, increasing their own selections of ethnic offerings.
Heritage Plaza appears set to turn the blur into a blend.
The 230,000-square-foot center runs along Culver Drive, with a Ralphs grocery store as its main anchor. There's a CVS/Pharmacy, Bank of America and other retailers or service providers that would look at home in Anywhere, U.S.A.
They operate alongside Japanese supermarket Mitsuwa Marketplace and retailer Daiso, both of which recently leased midsize spaces at the center.
Super Mex Restaurant and Chinese Seafood Noodle House have smaller spaces, along with others offering everything from American fast-food to Indian fare. Acupuncture and insurance services are in the mix.
Heritage Square
Heritage Plaza gives way to Heritage Square, with separate owners, at its north end. That's where the Caspian Restaurant dishes up Iranian, or Persian, food for folks dining out and the Super Irvine grocery store takes care of grocery shoppers from the same ethnic niche. There's an Asian bakery, an Indian buffet restaurant and a new Korean place, too.
"Irvine is a melting pot," said Gregg Sadowsky, senior vice president and senior market officer Regency Centers Corp., the Jacksonville, Fla.-based owner of Heritage Plaza. "The demographics are changing. Today you've got a heavy Asian community and you've still got a heavy white, Anglo-Saxon community—but then you also have a mix of everybody else."
The mix is well-educated and well-heeled, according to research from Regency. The population within a one-mile radius of Heritage Plaza accounts for an average household income of $114,841, and nearly 65% of residents have graduated from college. There's an average income of $110,473, and about 58% of residents are college graduates, within a five-mile radius.
Those high-end demographics are scattered across ethnic groups, with Caucasians accounting for about slightly more than half the population of nearly 340,000 that's within five miles, Asians another 27% or so, and African-Americans nearly 2%. Other ethnics, including Hispanics and Middle Easterners, make up about 17%, according to the developer's data.
"You've got an Asian community, you've got a Persian community, you've got a Hispanic community," Sadowsky said. "You've got the schools. It's a lifestyle."
Prev Next