Lyon Homes Sees $90M on Land Sale
REAL ESTATE: PAID $65M FOR SITE IN SILICON VALLEY LAST YEAR
Sunday, May 13, 2012
Share this article: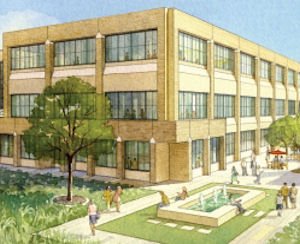 The best piece of business done by Newport Beach-based homebuilder William Lyon Homes Inc. over the past year appears to be a commercial real estate transaction.
William Lyon Homes, which emerged from a short stint in bankruptcy earlier this year, just sold off a 27-acre former mall site near Palo Alto in Northern California to San Francisco-based real estate investor Rockwood Capital LLC.
Rockwood said it paid $90 million for the Mayfield Mall property, which William Lyon Homes had planned to turn into a residential development of about 260 homes.
The new owner expects to turn the roughly 500,000 square feet of older buildings at the site, located on the border of Mountain View and Palo Alto, into office space.
Google
The buildings are expected to be garner heavy interest from Google Inc. and other area technology companies looking for space in the region's tight office market.
Specifics of how much money William Lyon Homes made on the sale have not been disclosed. Still, the deal looks to an extremely profitable one for the builder, led by chief executive and long-time OC 50er General William Lyon (see Lyon's OC 50 profile in Special Report starting on page 21).
The homebuilder owned the property for less than a year and had yet to commence any new construction at the site. It bought the land last October, paying an estimated $65 million, according to local market reports.
Bankruptcy court documents showed William Lyon Homes financing the deal with a $55 million loan.
The acquisition last October was said to be financed by a subsidiary of one of William Lyon Homes' largest noteholders, according to court documents.
Noteholders, led by New York-based hedge fund Luxor Capital Group LP, grabbed a sizeable equity stake in the builder following its recent restructuring, which was concluded in late February.
The restructuring left Gen. Lyon and his family owning about 20% of the builder, plus warrants to buy an additional 9% of the company's common stock.
Lyon and his family owned about 95% of the company, which he took private in 2006, prior to last year's pre-packaged bankruptcy.
The $90 million sale of the land in the Silicon Valley deal appears to help William Lyon Homes' finances but also leaves the builder's Northern California development pipeline relatively barren.
The Mayfield site was among the largest new home projects in Northern California planned by the builder in several years.
"The Mayfield Project is a fantastic opportunity, a sign of the company's long-term plans and the willingness of the noteholders and senior secured lender to support our plan," executive vice president Matthew Zaist said last November.
William Lyon Homes reported last month that it had closed on the sales of 24 homes in Northern California last quarter and inked contracts for 55 others during that period. The company's website lists six active developments in Northern California.
All told, the builder closed on the sale of 128 homes last quarter, up from 111 homes a year ago. It also reported 321 new home orders during the quarter, nearly double a year ago.
The company builds in California, Arizona and Nevada.
"Our sales activity has significantly exceeded our business plan," Zaist said last month. "As a result of the strong activity, we are reducing incentives, selectively increasing prices, and we now expect to open new communities sooner than initially expected."
Local Plans
William Lyon Homes is involved in a number of local housing developments, including projects at a pair of former school sites in Irvine—Vista Verde and Alderwood elementary schools—where the builder plans to build a total of 103 homes.
The builder inked a deal in 2009 with the school district to buy the land parcels, which total about 14.5 acres, for nearly $29 million. The projects are still being reviewed by the city's planning commission.
William Lyon Homes also was recently named to be one of the initial builders tapped for homebuilding at Sendero, a new community going up near San Juan Capistrano on land owned by Rancho Mission Viejo LLC.