REAL ESTATE: PAID $65M FOR SITE IN SILICON VALLEY LAST YEAR
Lyon Homes Sees $90M on Land Sale
Sunday, May 13, 2012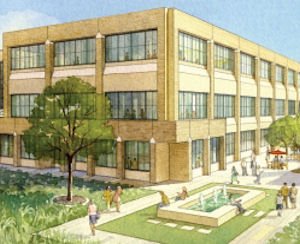 The best piece of business done by Newport Beach-based homebuilder William Lyon Homes Inc. over the past year appears to be a commercial real estate transaction.
William Lyon Homes, which emerged from a short stint in bankruptcy earlier this year, just sold off a 27-acre former mall site near Palo Alto in Northern California to San Francisco-based real estate investor Rockwood Capital LLC.
Rockwood said it paid $90 million for the Mayfield Mall property, which William Lyon Homes had planned to turn into a residential development of about 260 homes.
The new owner expects to turn the roughly 500,000 square feet of older buildings at the site, located on the border of Mountain View and Palo Alto, into office space.
Google
The buildings are expected to be garner heavy interest from Google Inc. and other area technology companies looking for space in the region's tight office market.
Specifics of how much money William Lyon Homes made on the sale have not been disclosed. Still, the deal looks to an extremely profitable one for the builder, led by chief executive and long-time OC 50er General William Lyon (see Lyon's OC 50 profile in Special Report starting on page 21).
The homebuilder owned the property for less than a year and had yet to commence any new construction at the site. It bought the land last October, paying an estimated $65 million, according to local market reports.
Bankruptcy court documents showed William Lyon Homes financing the deal with a $55 million loan.
The acquisition last October was said to be financed by a subsidiary of one of William Lyon Homes' largest noteholders, according to court documents.
Noteholders, led by New York-based hedge fund Luxor Capital Group LP, grabbed a sizeable equity stake in the builder following its recent restructuring, which was concluded in late February.
The restructuring left Gen. Lyon and his family owning about 20% of the builder, plus warrants to buy an additional 9% of the company's common stock.
Lyon and his family owned about 95% of the company, which he took private in 2006, prior to last year's pre-packaged bankruptcy.
The $90 million sale of the land in the Silicon Valley deal appears to help William Lyon Homes' finances but also leaves the builder's Northern California development pipeline relatively barren.
The Mayfield site was among the largest new home projects in Northern California planned by the builder in several years.
Prev Next