REAL ESTATE: PLANS TO SPEND $400M+ ON LAND IN 12
Standard Pacific Eyes Marblehead
Sunday, May 6, 2012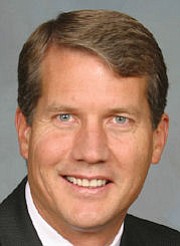 Irvine-based homebuilder Standard Pacific Corp. remains interested in buying land once controlled by master developer SunCal Cos.―including the Marblehead Residential site in San Clemente―now that the coastal project and 13 others saw a long-expected change in ownership.
Lehman Brothers Holdings Inc. last week said it has taken control of 14 former SunCal projects in California on which the New York-based firm had been providing financing.
The crown jewel of those projects—247-acre Marblehead—runs just west of the San Diego (I-5) Freeway and overlooks the ocean.
The San Clemente site is one of OC's last remaining stretches of undeveloped coastal land. Its ownership has been in limbo for almost four years after the project went bankrupt, along with others run by Irvine-based SunCal.
Marblehead is slated for 310 high-end homes and other development. The site once was valued at more than $300 million, though more recent appraisals set it closer to $100 million.
A deal between SunCal and Lehman, which had financed more than $2 billion of land buys for the developer prior to the last recession, was first announced last October.
Legal issues kept Lehman—which is being liquidated as part of its own 2008 bankruptcy—from taking title to the 14 financially distressed properties until the end of April.
"Our strategy for the SunCal portfolio has been to gain control over the assets, so that we could position them in a way that would provide the best result possible for Lehman creditors," Jeff Fitts, Lehman's head of real estate, said in a statement. "It has been a long and complex process, and this is a major milestone."
The plan now is for Lehman to line up joint-venture partners to finish early-stage work at the projects and then sell the land to homebuilders, according to real estate sources.
Standard Pacific, the largest homebuilder based in Orange County, confirmed its continued interest last week.
"We're tracking [the former SunCal portfolio]," Standard Pacific Chief Executive Scott Stowell told analysts in a conference call. "We have strong interest."
Executives at the builder previously said Marblehead was "a very high priority" among potential acquisitions.
Standard Pacific posted a relatively quiet first quarter for land buys and development. The company—which last week reported its strongest first-quarter earnings in six years—spent $66 million on land buys and development in the first three months of 2012, its lowest land-related spending since late 2010.
A year ago the builder spent $124 million on first-quarter land-related costs, with a bulk of that money going toward land acquisitions.
Prev Next