RESTAURANTS: CUSTOMER REWARDS PROGRAM SET FOR JULY
BJ's Looks to Stay Ahead With Marketing Maneuvers
Sunday, May 6, 2012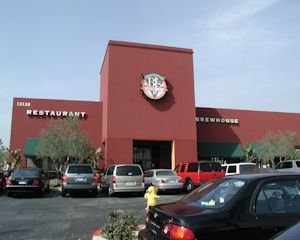 BJ's Restaurants Inc. has plans for a customer-loyalty program and other marketing initiatives as competition heats up among casual-dining chains.
BJ's is known for deep-dish pizza and menu fare ranging from pasta to seafood and steaks, and offers alcoholic beverages including a line of its own hand-crafted beers.
The Huntington Beach-based operator of 118 restaurants, located mostly in California, was one of a handful of chains that enjoyed growth during the downturn, when many of its peers shuttered locations and saw sales decline.
Competition
The company competes with The Cheesecake Factory Inc. in Calabasas Hills, Los Angeles-based California Pizza Kitchen Inc. and Minneapolis-based Buffalo Wild Wings Inc., among others in the casual dining segment.
BJ's, which had a recent market capitalization of about $1.21 billion, saw same-store sales growth slow to 3.3% for the quarter ended April 3. That compared with sales growth of 7.8% marked in the year-earlier period.
The company reported net income of $8.6 million on sales of $167.6 million, with both figures falling a bit short of consensus expectations.
Sales and profit were still up from the year-ago period.
"Simply stated, the current operating environment requires us to get a little more aggressive with investments in our shorter-term marketing and promotional programs," BJ's Chief Executive Jerry Deitchle told analysts.
Deitchle said the BJ's brand conveys a "higher-quality, more differentiated restaurant concept."
Mindful
The company is mindful to preserve that as it rolls out more of what it calls "sales-building initiatives," he said.
The average BJ's customer orders 2 items per visit, up from 1.7 two years ago and a sign of stability.
But Deitchle acknowledged lunchtime business and earlier weekday hours generally have shown a "slight weakness."

Lunch is where many restaurant chains—from fast food to casual dining—have stepped up the promotions to compete for customers' attention.

"Fast-casual and even limited-service, in general, have done a really nice job and owned the lunch daypart," said Darren Tristano, executive vice president of Chicago industry researcher Technomic Inc. "It is hard for [casual-dining operators] to get customers in during lunch, because they're just not as convenient. They're trying to get more customers back in their doors instead of seeing them run off to Chipotle or Panera Bread where they can get it faster, at a pretty good quality and no tip."
BJ's Restaurants Inc.
• Headquarters: Huntington Beach
• Business: casual dining chain
• Founded: 1991
• Ticker symbol: BJRI (Nasdaq)
• Market value: about $1.21 billion
• Notable: enjoyed growth during downturn, plans new marketing initiatives as competition heats up
Prev Next