Felt Feels Growth Opportunity
Saturday, March 24, 2012
Share this article: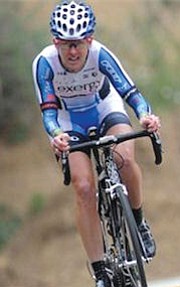 Irvine-based Felt Racing LLC is jumping into the electric bike market.

The company, which designs, markets and sells high-end bicycles here, plans to debut its bike at a European trade show come August.
The company has already made a name for itself among professional athletes and cyclists with its lines of mountain, triathlon, BMX, track, cruiser and other bikes, which are manufactured in Taiwan and China.
The move into electric models will take the company into a broader market.
"Bicycles are becoming much more of a lifestyle for people now—not just in America, but the rest of the world," Bill Duehring, president of Felt Racing, which does business as Felt Bicycles. "The market is already growing in Europe, and there are bicycle shops now in America that sell nothing but electric-assist bikes."

Prices for Felt's current product lineup range from a $250 children's BMX bike to $13,000 for an exotic road-racing bike.
Electric bicycles typically cost anywhere from $2,000 to $4,000 at retail, and Felt's models will be in stores in Europe in September. They're expected to go on sale in the U.S. within a year.
"Europe will be our first push because the market is so developed," Duehring said.
The company doesn't disclose sales, but Duehring said Felt has seen double-digit revenue growth over the past five years.
Felt Bicycles was one of five companies honored at the Business Journal's annual Excellence in Entrepreneurship award luncheon held March 21 at the Hyatt Regency Irvine (see related stories, pages 1, 6, 8, 9 and 10).
Strong Reputation
The company has won a strong reputation for high-performance bikes and will provide models to several athletes for the Olympic games this summer in London, including Sarah Hammer of Temecula, who is the current Omnium track cycling champion.
Felt Bicycles has 32 workers in Irvine and 75 companywide.
It has a warehouse and customer service facility in Ontario and a sales office in Buffalo, N.Y.
About 150,000 Felt bikes are made annually and sent to specialty bike shops in the U.S. and 32 countries.
The company is constantly designing new bikes, sometimes taking up to two years on product development.
"We have to refresh our product just like you go into a dealership and you expect to see a new car—we have to do the same with our product," Duehring said.
Felt Bicycles got its start in 1990, when motocross mechanic Jim Felt designed a bicycle frame for Johnny O'Mara, who rode it to a California State Championship.
Word spread, and Felt established a name for himself in the industry for custom frames.
It wasn't until Felt met Duehring and Michael Muellmann 12 years ago that Felt Bicycles began to design and sell full bicycles.
Duehring had racked up several years in the business, beginning with his high school days, working at his father's Florida bicycle shop.
He is the third generation in his family to work in the bike industry.
Duehring went into the U.S. Marine Corps—something his grandfather, father, sister and brother also did—but left early due to a knee injury. When he got out, he went back into the bike business to help his father, who he credits with teaching him the value of working hard.

He later worked at Cycles USA, which later became Northvale, N.J.-based Jamis Bicycles.
In 1987 he moved to California to work at Madison, Wis.-based GT Bicycles. He left GT about 12 years ago to start his own company, designing bikes.
At around that same time, Muellman was in Germany about to lose the rights to a bicycle brand that he had carried.
"He needed a new brand, I needed a customer—and Jim had a very famous name called Felt that had a high-end image, and so we partnered 12 years ago to make Felt Bicycles," Duehring said.
Felt works with the company's sponsored athletes and teams, and he is also a part of business decisions.
Muellmann is the president of Felt Bicycles' European business.
After the three relaunched the new Felt Bicycles business, the company expanded with multiple bike lines and then got into apparel and accessories, racking up growth with more athlete sponsorships and new products.
"We want to be the best," Duehring said, "and we want to design and deliver the best bikes in the world."