CONSIDERS HER LIFE, CAREER AMERICAN DREAM COME TRUE
Top Financial Adviser Has International Perspective
Saturday, June 16, 2012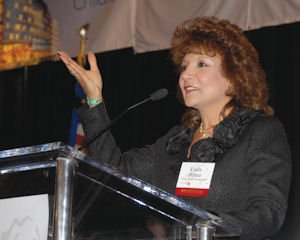 Dryden had been running a regional investment banking firm in Fort Smith, Ariz. He sold the firm and joined Laila to form Pence Wealth Management. He is now chief investment officer at the firm. Dryden also serves as lieutenant colonel in the U.S. Army Reserve and heads an army intelligence unit.
The couple complement each other well "because we don't do the same thing," according to Laila Pence.
"He focuses on managing the money and the portfolios, and I focus on meeting with the clients and bringing in the business," she said. "The two of us have brought the business to much bigger heights."
The firm runs on five financial advisers and 19 employees total. Each adviser caters to a particular niche industry, such as charitable giving or insurance.
"We have really good team members," Laila Pence said. "I always tell my teammates that there are a lot of people who do what we do. Newport Beach is a wealthy area, and there are a lot of advisers out there. The key is to remember that people's money is very, very important to them, and we're there to serve them. Clients are drawn to us when they know how sincere we are and how much we care."
Principles
One of the "Pence Principles" by which the firm operates is that clients "don't care what you know, until they know you care."
The firm aims to capitalize on cash flow, as well as diversification of its portfolios.
"Cash flow trumps volatility," Laila Pence said. "I cannot control what happens in the market. What I can control is to put together portfolios that have great companies that pay dividends. We design portfolios that produce about 4% to 6% in cash flow."
Laila and Dryden give to local and national organizations, including Orange County United Way, Saddleback Church, the Segerstrom Center for the Arts and the U.S. Army.
Laila Pence considers it a plus that she has spent part of her childhood in Egypt.
"The financial business is still a male-dominated industry, and to be an Egyptian, a foreigner, it's really unusual," she said. "But it certainly has helped me appreciate what I have and what I do here. It helps me relate to clients about what the world outside is like. From that standpoint, it helps that I come from a different country. I can give someone a much bigger perspective about not just numbers, but a perspective of what they have."
Prev Next