CONSIDERS HER LIFE, CAREER AMERICAN DREAM COME TRUE
Top Financial Adviser Has International Perspective
Saturday, June 16, 2012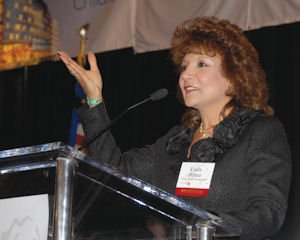 Laila Pence got an early start as a financial planner and never looked back.
"I never did anything else," she said. "I stumbled on it my last year of school in 1980, and I felt this was the area I wanted to be in—investment and planning."
It was quite a stumble for Pence, who is president at Pence Wealth Management in Newport Beach, a firm she and her husband, Dryden, founded 12 years ago.
Laila Pence's career and the firm's growth have gotten her recognized as the No. 1 local financial adviser on the Business Journal list earlier this year. She was No. 13 this year among the top 100 women advisers in the U.S. on an annual list compiled by Barron's magazine, a jump from No. 26 last year.
She added honors as one of five local businesswomen honored at the Business Journal's 18th annual Women in Business awards luncheon June 5 the at Hyatt Regency Irvine (see related stories, pages 1, 7, 8, 9).
Pence Wealth Management has about $850 million in assets under management, up about 34% from last year. A typical client has net worth of $5 million, with the average account holding $2 million.
Laila Pence, a native of Egypt, describes her life as "living the American Dream." She and her family moved to the U.S. when she was 12, and under conflict.
"We lived in a big villa in the Suez Canal area, but in the 1967 [Six-Day War], our house got bombed," she said.
The family briefly lived in Cairo before moving to New York.
"My dad was in banking and got a job here," Pence said. "He had always wanted to move to the U.S. But it was very tough. We came here not speaking a word of English, and it's not like Arabic was a second language anywhere. And it was very cold."
Pence later moved westward to attend University of California, Los Angeles, where she earned her bachelor's in economics. She set off working with other financial advisers and received a Certified Financial Planner designation in 1981.
Turning Point
Meeting her husband was another turning point in her life.
"After our first date, I thought to myself, 'It would be great if he folded his business and worked with me,' " Laila Pence said. "He hadn't even asked me for a second date yet."
The couple now counts 13 years of marriage.
Prev Next